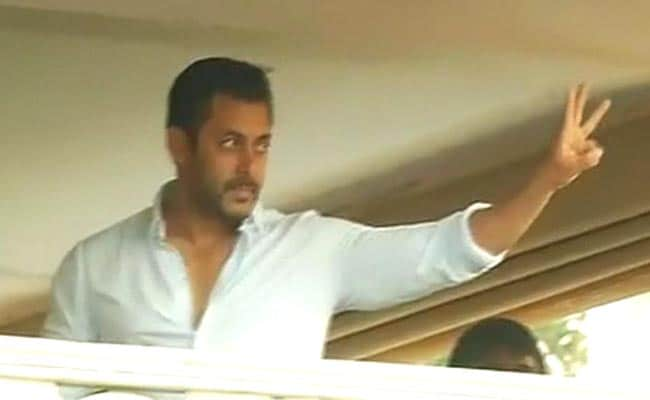 Mumbai:
A much-relieved Salman Khan on Friday responded to the cheering fans gathered outside his residence by waving to them with three fingers, instead of a customary victory sign of two fingers, apparently alluding to his famous dialogue in the Hindi film 'Jai Ho'.
In this film, where Salman appears as a crusader against corruption, he says,
"Aap thank you mat kahiye... uske badle mein teen logon ki madad kijiye...aur un teeno se kehna ki woh teen aur ki madad karen...duniya badal jayegi."
(Don't thank me, instead, do a good deed to three others and ask them to help another three people each...the world will change.)
The fans who gathered in front of the Galaxy apartment in suburban Bandra, where Salman lives, included many women who danced and sang upon seeing the actor back home.
Salman Khan was seen on his balcony along with his father, well-known script-writer Saleem Khan.
The crowd had gathered near the actor's house since morning. At times police had to ask the people to clear the road for traffic.
The Bombay High Court on Friday granted bail to Salman Khan after he was convicted by the trial court in the 2002 hit-and-run case and sentenced to five years' rigorous imprisonment.