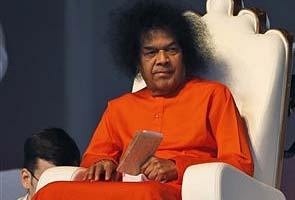 Puttaparthi:
Devotees anxious about the health status of spiritual guru Sri Sathya Sai Baba had some reason for hope today as doctors attending to him said that his condition was slowly improving and he was responding to treatment.
However, the godman still continues to be on ventilator support in the Intensive Care Unit (ICU).
"Sri Sathya Sai Baba, who has entered his 10th day of treatment at this hospital, is in a stable state of health as he was yesterday. There are signs of improvement in the functioning of his kidneys although he is still on dialysis," a health bulletin issued this morning by A N Safaya, Director of Sri Sathya Sai Institute of Higher Medical Sciences, said.
The 85-year-old Baba was admitted to the super-speciality hospital in Puttaparthi on March 28 following complaints of lung and chest condition.
Hundreds of concerned devotees have been thronging the gates of the hospital ever since, forcing the administration to enforce prohibitory orders to keep the crowds at bay.
Baba's followers, who also include some of the country's rich, famous and powerful names, were hopeful of his recovery.
"I have seen Baba myself and I have seen that there is a lot of improvement. He responds if you tell him something, he is blinking, but because of the ventilator, he can't speak. He gives signs that he does understand. They played some music today, some bhajan, and that was heard by Baba," said Dr Geeta Reddy, Minister for Major Industries, Andhra Pradesh and a Sai Baba devotee.
"Whenever you talk about Sai Baba, all over the world people recognise him. That is a matter of great pride for India. He is a great man,'' said Chandrababu Naidu, TDP President.
"We pray for his recovery,'' said Karunanidhi, Chief Minister, Tamil Nadu.
Sri Sathya Sai Baba has earned huge respect for setting up world-class educational and health institutions and also for charitable work like drinking water projects for four semi-arid districts of Andhra Pradesh as also Chennai.
"He is providing very good education. In the field of health, he is running super-speciality hospitals. Very few hospitals in the country can compare with them. He is providing drinking water. These are all basic needs,'' said K Rosaiah, former Andhra Pradesh Chief Minister.
For almost six years now, especially after a hip fracture in 2006, Baba has been confined to a wheel chair and has been giving darshan from his car or a portable chair. Sai Baba's advancing age and failing health have thrown up questions on the road ahead for the institutions and properties that he has built, estimated to be worth over Rs 27,000 crore.