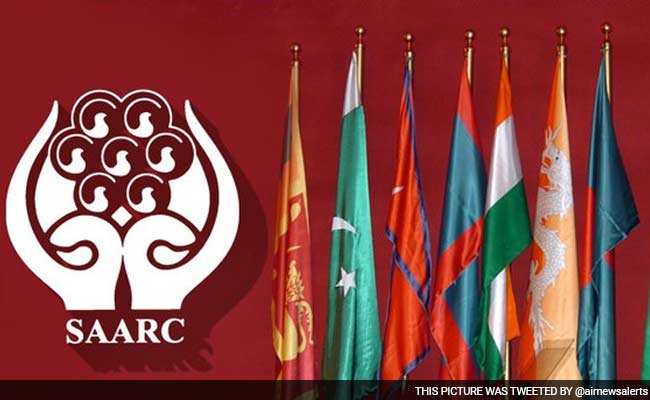 New Delhi:
Foreign Secretary S Jaishankar said today SAARC is a "jammed" vehicle as "one country" is not connected to the other seven members of the South Asian regional bloc on the key issue of terrorism, in an obvious reference to Pakistan.
He also said that unlike South Asian Association for Regional Cooperation (SAARC), the other seven-nation regional grouping BIMSTEC has members that are "broadly aligned" and "articulate similar aspirations".
His comments come at a time when India is trying to make the Bay of Bengal Initiative for Multi-Sectoral Technical and Economic Cooperation (BIMSTEC), a group comprising countries in South Asia and South East Asia, more relevant as an alternative to SAARC.
"Neighbours need to be connected, but if you look at the vehicle on which all had expectations (it) was SAARC. But the SAARC vehicle has sort of jammed because of two big issues -terrorism and connectivity... where all countries are not on the same page, but specifically one country is not on the same page with others," Mr Jaishankar said without naming Pakistan.
The 19th SAARC Summit, which was scheduled to be held in Islamabad last year, was indefinitely postponed after India, Afghanistan, Bangladesh among others pulled out of the event. India cited cross-border terrorism as the reason for pulling out of the summit after the Pathankot and Uri terror attacks.
Responding to a question on Indo-Japan cooperation and joint connectivity initiatives, which were seen by many as an attempt to counter China, Mr Jaishankar said describing it as a competition to anyone would not be "justice".
In a veiled reference to 'One-Belt-One-Road' (OBOR), a Chinese mega infrastructure initiative, Jaishankar said earlier in the year, India laid out its viewpoint, opposing the initiative.
"We have the silk road. We probably have more ownership on the silk road than anybody else, even if... we lost the branding on the route. But the point is that we have a certain view of how connectivity projects should come about. So, what we laid out earlier in the year was our viewpoint and at that point there were concerns saying we are getting isolated," he said.
Mr Jaishankar also said but if you see the developments in last two months, one can see many of the concerns that India articulated in the summer have become topic of international concerns.
"We hear this with Japan, we hear this with the US and we hear this in Europe. So, in some ways, I think it is important that we have a view point, the conviction to speak up. We can not always be a follower or an abstainer on the big international debates," he added.
He also rubbished concerns that India was getting isolated because of connectivity projects initiated by other nations in the region.
"Whether you are insecure are not, other players are going to come. We cannot be in denial of that. An intelligent nation then harnesses the changes and sees what works for it. We are very comfortable working with other countries," Mr Jaishankar said.
Responding to another question on presence of a "villain" in the growing "romance" between India and Japan, the foreign secretary said the relationship between them has a larger value for Asia, considering the investments done by the two giants in several countries.
"Every movie, does not require a villain," the foreign secretary quipped.
Speaking at the event, Kenji Hiramatsu, Japanese envoy to India, emphasised on deepening cooperation between the two countries in the areas of defence and infrastructure.
Mr Jaishankar also said that Japan is a mirror image of India.
"There is clear convergence there for everyone to see. The challenge is that we may agree intellectually but the hard work (for collaboration) will require much deeper economic relation that is happening," he said, citing the technological collaborations like the bullet train project and other infra works.