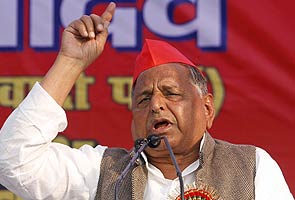 Barabanki, Uttar Pradesh:
Samajwadi Party supremo Mulayam Singh Yadav has kicked up a controversy with his remark that rural women will not benefit from the Women's Reservation Bill because they are not as attractive as those from the affluent class.
Mr Singh, whose party is in power in Uttar Pradesh and is an outside supporter of the UPA government at the Centre, made the comment while articulating his opposition to the long pending Women's Reservation Bill.
"
Bade bade gharon ki ladkiya aur mahilayan kewal upar ja sakti hain...yaad rakhna...apko mauka nahi milega..hamare gaon ki mahila me akarshan itna nahin...
,"(Only girls and women from affluent class can go forward...remember this..you (rural women) will not get a chance...Our rural women did not have that much attraction)," he said at a rally in Barabanki yesterday.
Mr Singh made the remark while claiming that if the Bill is passed, women belonging to the affluent class will march ahead while those from backward sections will be further pushed back.
The row over his comment was a throwback to the controversy over his remark - dubbed as sexist - in 2010 that if the Women's Reservation Bill is passed it will fill Parliament with the kind of women who invite catcalls and whistles.
Mr Singh, whose party was then in the Opposition, had drawn flak from political parties and women's groups.
At the meeting in Barabanki, he said he opposed the bill since it will benefit only the affluent class and those belonging to weaker sections will be further suppressed.
The bill proposes 33 per cent reservation for women in the Lok Sabha and State Assemblies.
BJP spokesperson Nirmala Sitharaman condemned Mulayam's remark and said there is a need to get out of the "mindset" of looking at women from the prism of whether they are attractive. "We are not a commodity, women have a big contribution to make," she added.
Talking to reporters today at the sidelines of a function in Lucknow, Mulayam said his party could consider supporting the Bill if Dalits, Muslims and backward classes were also taken care of under its ambit.
"I have opposed the Bill earlier...It has been amended and if Dalits, Muslims and backward class are taken care of in it, we can consider supporting it," he added.
"We always feel that men and women should work shoulder to shoulder but women are still suppressed in the society," he added.
SP spokesman Rajendra Chowdhury later clarified that the party supremo was quoted in the wrong sense.
"While talking about
akarshan
(attraction) he meant attraction of women among people as a leader. He has certainly not talking about physical attraction. What he wanted to convey was that women of urban areas have qualities to woo voters in comparison of rural women," he said.
As women of rural areas are mostly less educated, they would not attract much voters, he added.