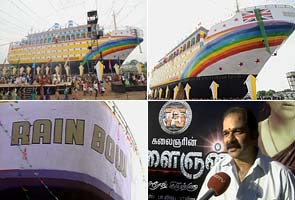 Chennai:
Chennai is used to its fair share of ships. But a new one- the Rainbow - is a crowd-stopper.
700 people spent 3 months constructing the Rainbow for 3 crores. It's playing a not inconsiderable role in a new film, Ilaingan, whose script-writer is a man most people are familiar with - Chief Minister M Karunanidhi.
Ilaingan, in fact, is the 75th script by Karunanidhi to go into production. The story is based in the ship-building industry.
Directed by Suresh Krishna, whose track record includes blockbusters with superstars Rajinikanth and Kamal Haasan, Ilaigan is slated for a Pongal release. It stars Tamil actor Vijay. "I think script -wise, he has done great work and I'm confident it will do well," he says.
"You can't imagine going to a shipyard, asking them to move out. The filming took more then 150 days," says Art Director Tharini, whose team built the Rainbow. Advanced graphics will provide the sea.
Karunanidhi's recent scripts have not translated into box office bang. The buzz about the Rainbow could help in drawing audiences.