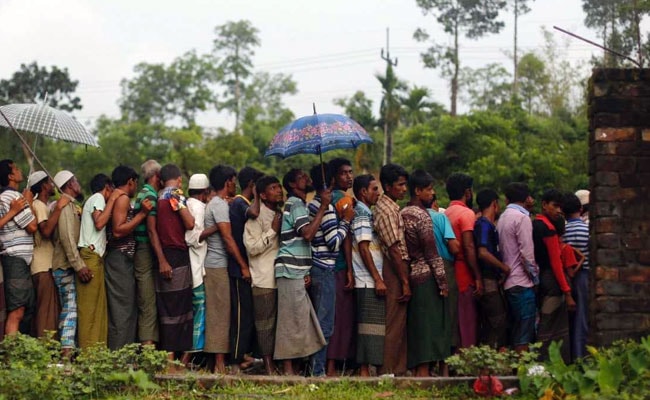 New Delhi:
The government has said it is still finalising a written submission it will present to the Supreme Court next Monday, a draft of which was circulated today and reported in the media. The centre has said in the draft affidavit that Rohingyas are a threat to national security and that it is in "national interest" to deport them, suggesting that the court should not "interfere" in its decision. A government lawyer said on Thursday evening that the draft was "wrongly circulated" to petitioners.
Here are the top 10 developments in this story:
The draft submission cites intelligence inputs to say that some sections among Rohingyas have links with terror groups and could be used by the ISIS for terror attacks in India. These groups of Rohingyas, it said, are active in Jammu, Delhi, Hyderabad and Mewat.

The Supreme Court has agreed to hear a petition filed by two immigrants, who have challenged the government's decision to deport Rohingyas. They say the decision to send them back is in violation of international conventions.

The government's draft reply says there is no "violation of fundamental rights of the petitioner" in this case.

Two days ago, top government officials led by National Security Advisor Ajit Doval held a meeting in Prime Minister Narendra Modi's Office to review, sources said, an intelligence report that red-flagged the penetration of Pakistan-based terror groups, including the Lashkar-e-Taiba, among Rohingyas, contending that they would eventually be used to target India.

Around 40,000 Rohingyas - Muslims who fled Myanmar as violence against the ethnic minority spiked in the Rakhine region - have settled in India. About 16,000 are registered with the United Nation's refugee agency.

Last month, minister of state for home Kiren Rijiju told Parliament that Rohingyas are illegal immigrants and that the government aims to deport them. Union Home Minister Rajnath Singh said there was a possibility that Rohingyas have links with terror groups.

The United Nations' top human rights body criticised the government plan to deport Rohingyas earlier this week, saying India "cannot carry out collective expulsions, or return people to a place where they risk torture or other serious violations."

The Indian government rebutted that sharply saying enforcing its laws to deal with possible security threats posed by illegal migrants cannot be seen as a lack of compassion.

"India is proud of its independent judiciary, freedom of press, vibrant civil society and respect for rule of law and human rights," the Indian representative had said.

"This chorus of branding India as villain on Rohingya issue is a calibrated design to tarnish India's image... It undermines India's security," Mr Rijiju tweeted yesterday.