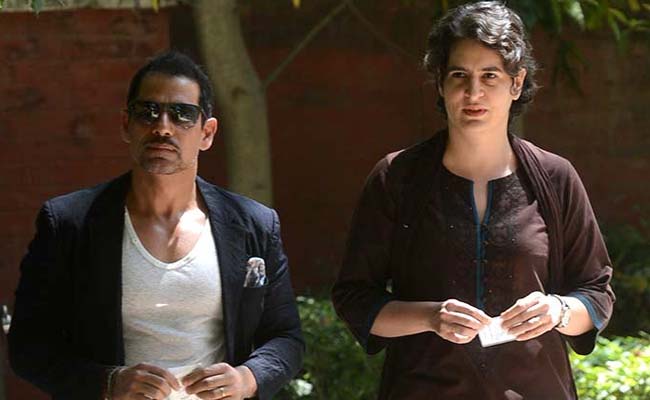 New Delhi:
Congress leader Priyanka Gandhi Vadra's husband Robert Vadra said the Special Protection Group (SPG) cover should not have been removed for his wife after a security breach when a car drove into her home late last month.He termed the incident a "very big" security lapse.
"Giving security is not a fad. It is given on threat perception. Seven people came in that day, asked for selfies. The new security lacks the kind of training that SPG had. When we asked our security officers, the blame game started," Mr Vadra was quoted as saying by news agency ANI.
Priyanka Gandhi's office has confirmed to NDTV that the security breach took place on November 25.
"There was serious lapse in security. The SPG should not have been removed," Mr Vadra said on Tuesday. He also slammed the government, saying that "security throughout the country is compromised".
Priyanka Gandhi's security detail provided by the elite Special Protection Group (SPG), which also protects Prime Minister Narendra Modi, was recently downgraded to Z-plus comprising a large team of the paramilitary Central Reserve Police Force (CRPF).
"Security of every citizen is the government's responsibility. If we are not safe in our own country, our homes, not safe on roads, not safe in the day or not at night, where and when are we safe?" Mr Vadra wrote.
A group of people including a girl came out of the car after it drove in right up to the porch near the garden at Priyanka Gandhi's home, sources said. They walked straight to her garden and asked for a photo to be taken with the Congress leader, sources said, adding the family said they came all the way from a town in Uttar Pradesh to click a photo with her.
Priyanka Gandhi was surprised as no visitor had taken an appointment to meet with her, sources said. The CRPF personnel were also not informed about any visitors scheduled to meet her. She asked them how the visitors came inside without her knowledge, that too in a car.
As soon as the CRPF realised what had just happened, the security detail closed in on the visitors and the entire compound went on alert, sources said.
Sources alleged this was one of the worst security breaches as the guards not only let the car come in but also did not check the identity of the passengers.
Union Minister of State for Home G Kishan Reddy said he will discuss the matter with officers. "I don't know the details yet. I am coming from Lok Sabha. I will go and discuss the matter with my officers," Mr Reddy said, according to news agency ANI.
Linking the security breach to women's safety, Mr Vadra wrote on Facebook, "It's not about the security for Priyanka, my daughter and son or me or the Gandhi family... It's about keeping our citizens especially the women of our country, safe and feeling secure. Security throughout the country is compromised... Girls are being molested/raped, what society are we creating."
The SPG cover for Priyanka Gandhi's mother Sonia Gandhi and brother Rahul Gandhi were also withdrawn and they were placed under the Z-plus category, which ensures security cover by around 100 personnel.
Several senior Congress leaders also expressed concern over the alleged security breach with party leader KC Venugopal saying the government should not put someone''s life in danger for "settling cheap political scores".
Government sources attributed the revision to a lower threat perception for the family, who had been under the tightest possible security after former Prime Minister Rajiv Gandhi was assassinated in 1991 by bombers of the Lankan terror group LTTE.
(With inputs from ANI and PTI)