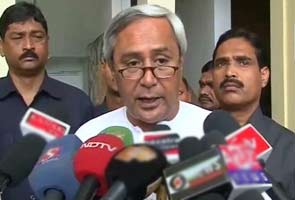 Bhubaneswar:
There is trouble brewing in the Biju Janata Dal (BJD) in Odisha and, reports suggest, the party may be heading for a split.
A powerful section within the part has fallen out with Naveen Patnaik and has reportedly garnered the support of about 60 of the 104 BJD MLAs. Sources have told NDTV that dissidents have also mustered the support of 17 Congress legislators and three Nationalist Congress Party (NCP) MLAs - enough oust Chief Minister Naveen Patnaik, and form a government in the 147-member Odisha Assembly .
Sources within the BJD say that the dissidents are all set to outsmart Chief Minister Naveen Patnaik, and are likely to strike before he returns from London on June 1.
Reports suggest the rebel faction is led by Rajya Sabha MP and Mr Patnaik's political advisor for over a decade, Pyarimohan Mohapatra. The rebels, who reportedly include four state ministers, met on Tuesday night in closed-door meetings at Mr Mohapatra's house and later in a star hotel. While the rebel leaders refused to comment, sources reveal the meetings were meant to chalk out the final plans for the anti-Patnaik offensive.
The Odisha Assembly has 147 seats, 104 of which are with the BJD. The Congress has 27 seats, the BJP six, the NCP four, the CPI one and independent candidates make up the remaining five.