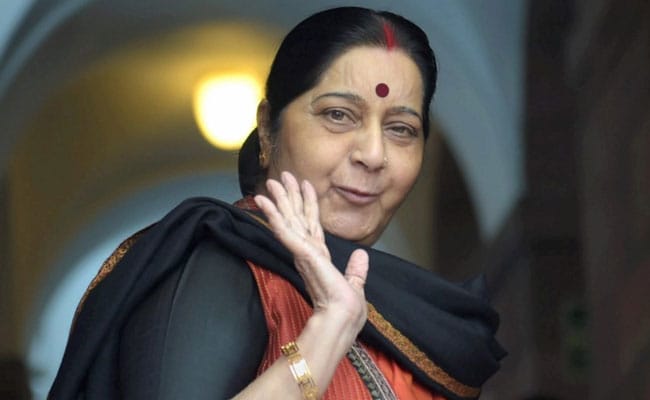 Highlights
Congress conducted Twitter poll against Sushma Swaraj which backfired
Poll had asked if death of 39 Indians in Iraq Ms Swaraj's biggest failure
Congress has challenged Ms Swaraj again with a new poll
New Delhi:
The Congress's Twitter poll against Sushma Swaraj
backfired spectacularly
with over 76 per cent voting "No" to the opposition party's question: whether the death of 39 Indians in Iraq was her biggest failure as Foreign Minister. Ms Swaraj scored big by re-tweeting the Congress poll.
Undeterred, the Congress today tweeted another poll -- just to make things "explicitly clear" -- and challenged Ms Swaraj to retweet its post again.
Which of these two is Sushma Swaraj's biggest failure? #IndiaSpeaks

- Congress (@INCIndia) March 28, 2018
The new tweet gives respondents two options to choose from -- the
killing of Indians in Iraq
or the "unresolved" Doklam dispute. "No" is not an option in this one. So far, there are over 11,400 votes. And many of the respondents have taken fresh shots at the Congress.
Well well well! After she has trolled u badly, u had ur time to think how to get revenge of her trolling & came up with this cheap poll with two negative options! Show some courage if u have any & add positives also & u will see how Indians will vote! Let's see if u can do!

- Vaibhav Deshmukh (@DeshVaibhavM) March 29, 2018
Others responded with their own poll disparaging the Congress as well as its president Rahul Gandhi.
Who has better potential of being PM?

- Devesh Pandey (@Jhalla_wallah) March 29, 2018
The Congress has been targeting Ms Swaraj since she confirmed in parliament last week that the Indians had been killed by the ISIS. Its last post was a self-goal, with Ms Swaraj walking away with high approval ratings and more fans.
A week ago, the foreign minister
declared in parliament
that the Indian workers, missing since 2014, had been confirmed dead after DNA tests on remains underneath a mound in Iraq's Mosul. The Congress accused her of misleading the house and the families of the workers earlier, when she assured that the workers were safe until evidence otherwise. The party also decided to push a motion for breach of privilege.