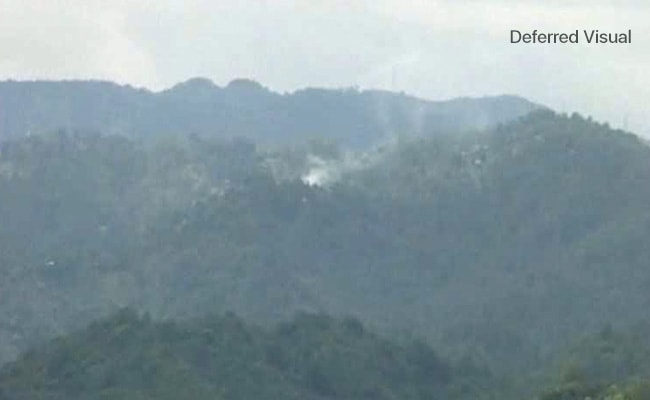 Highlights
Soldier, 8-year-old girl killed in Pak firing in Jammu and Kashmir
Indian, Pak DGMOs speak amid increased shelling by Pak troops
India says it reserves the right to respond appropriately to firing
Srinagar:
India on Monday said it reserved the right to respond "appropriately" to Pakistani firing along the Line of Control (LoC) after
an 8-year-old girl and a soldier were killed
in Jammu and Kashmir in heavy shelling by Pakistani forces.
The latest in a series of Pakistani border aggression came even as two senior military commanders of the two countries held talks over repeated exchanges of fire along the LoC .
The girl, who was hit by a Pakistani shell, was identified as Saida of Balakote in Poonch district. The soldier was killed in Rajouri district's Tarkundi area.
Defence Ministry spokesman Lt. Col. Manish Mehta said the firing along the LoC was still going on after Pakistani troops resorted to unprovoked shelling at Bhimber Gali, Mendhar and Balakote sectors of Poonch and Rajouri districts.
The Indian Army retaliated "strongly and effectively", Lt. Col. Mehta said.
As the firing was on, the Directors General of Military Operation (DGMO) of India and Pakistan spoke over hotlines to deescalate the border tension. The DGMOs usually speak on Tuesdays but Monday's was an unscheduled conversation on Pakistan's request.
The Indian DGMO, Lt. General AK Bhatt, pointed out that "all the ceasefire violations" were being initiated by the Pakistan Army, according to an Indian Army statement.
The DGMO also noted that firing by Indian troops was initiated against armed intruders trying to sneak into India "from close proximity of Pakistan posts".
"The trend of infiltration along the LoC continued with active support of Pakistan forward posts impacting peace and tranquility along the LoC and also the internal security situation."
He said continued attempts of sniping and targeting of Indian troops were "undertaken through cross border actions supported by Pakistani Army troops.
"The Indian Army reserves the right to retaliate appropriately to any incident of violation of ceasefire but is sincere in its effort to maintain peace provided there was reciprocity," the statement added.
Two Indian soldiers were killed in Kupwara sector of the Kashmir Valley on July 12.