New Delhi:
Foot-tapping music and soulful classical renditions rent the air as Republic Day celebrations culminated with the Beating Retreat ceremony in the national capital where President Pranab Mukherjee rode the ceremonial buggy - an open gold-plated carriage - down the Raisina Hill today. President Mukherjee, whose tenure ends later this year, greeted the spectators with a customary wave.
The ceremonial event at the Vijay Chowk this year saw 16 military bands, 16 pipes and drums bands from regimental centres and battalions enthralling the crowd, with clear sky and relatively warmer weather adding to the august atmosphere.
Several performances by Army, Air Force and Naval bands, among other troupes, thrilled the audience with patriotic fervour, which cheered loudly in the backdrop of a delightful twilight.
The ceremony was also attended by Vice President Hamid Ansari, Prime Minister Narendra Modi, Lok Sabha Speaker Sumitra Mahajan among others.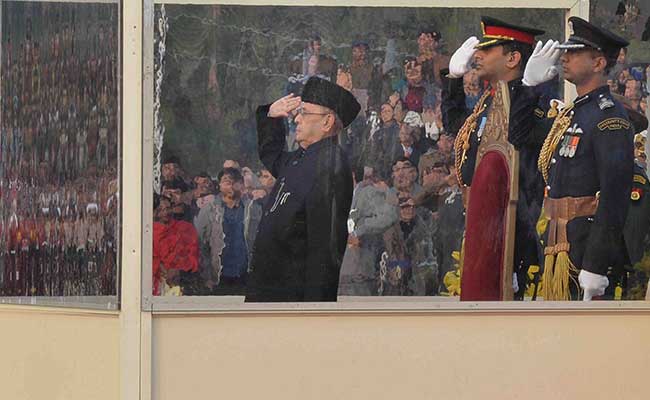 Mr Mukherjee assumed office in 2012 and during the 2014 Beating Retreat ceremony, the buggy was brought back, three decades after its discontinuation at public functions due to security reasons. However, in 2015 the President had arrived in his limousine.
'Beating Retreat' marks a centuries-old military tradition, when the troops ceased fighting, sheathed their arms and withdrew from the battlefield and returned to the camps at sunset at the sounding of the Retreat. Colours and Standards are cased and flags lowered.
The event, hosted at Vijay Chowk, surrounded by architectural grandeur, assumes significance as it caps four-day Republic Day celebrations.
The combined pipes and drums bands mesmerised the gathering with soulful strains of 'Mony Musk', 'Jak Wilson', 'The Gael' while the tri-services military band with accompaniment of Indian instruments regaled with 'Yaman', 'Sky Lark' and other renditions.
After the event, Prime Minister Modi took a walk around the Vijay Chowk and greeted crowd on the occasion, which reciprocated with loud cheers.
The State Police and Central Armed Police Forces band also regaled the crowd with their select renditions. Amid the strains of 'Sare Jahan Se Achha' by the Buglers, the ceremony came to a dazzling end.
Get the latest election news, live updates and election schedule for Lok Sabha Elections 2019 on ndtv.com/elections. Like us on Facebook or follow us on Twitter and Instagram for updates from each of the 543 parliamentary seats for the 2019 Indian general elections.