Highlights
Rahul Gandhi dismisses exit poll results for UP which predict BJP win
Congress fought UP elections in alliance with Samajwadi Party
Exit polls predicted BJP win in Bihar in 2015, did not happen: Rahul
New Delhi:
Congress Vice President Rahul Gandhi has dismissed
exit polls aired on Thursday
, all of which have
predicted that the BJP will be the number one party in Uttar Pradesh
, with the Samajwadi Party - Congress alliance trailing in second place.
Votes will be counted tomorrow in UP
and four other states.
"Our alliance is winning. Such exit polls we saw in Bihar also. We will talk tomorrow," said Mr Gandhi, who has sole charge of the party and key decision making with his mother and Congress president Sonia Gandhi away abroad for medical treatment.
In Bihar two years ago, Chief Minister Nitish Kumar was re-elected, leading a "grand alliance" with Lalu Yadav's RJD and the Congress to a big victory. Many exit polls had predicted a BJP win, but the party came in a distant number two.
Mr Gandhi's party was the junior partner in the Bihar alliance and has played a similar role in Uttar Pradesh, where it has partnered with Chief Minister Akhilesh Yadav, who is seeking a second straight term.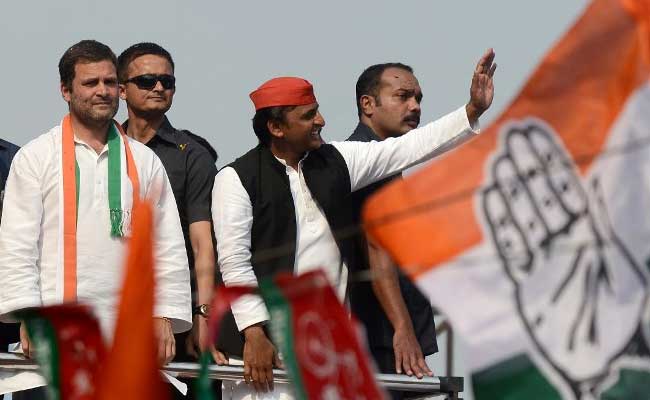 Mr Yadav, who had so far ruled out a post-election tie-up with the other regional heavyweight Mayawati's Bahujan Samaj Party,
on Thursday did a u-turn, saying he could explore that possibility
if the
results tomorrow throw up a hung assembly
with no party getting a majority. "Nobody wants President's Rule, the BJP to run Uttar Pradesh by remote control," the chief minister told BBC Hindi in an interview.
A poll of exit polls, which aggregated six exit polls shows the BJP getting 211 seats in UP, comfortably over the 202 seats needed to form government. It shows The Samajwadi Party getting 122 seats and the BSP 61. UP has 403 assembly seats.
Mr Gandhi has led his party from the front in this year's assembly elections, particularly in UP where he has campaigned extensively, and if the Congress fares poorly again on Saturday, questions about his leadership will be resurrected. The Congress has been on a downward slide losing state after state since its disastrous performance in the 2014 national election, when it could win only 44 Lok Sabha seats, its lowest tally ever.
Among the states where elections were held this year, the Congress currently rules Manipur and Uttarakhand and is struggling to retain them. Most exit polls showed the BJP taking both states.