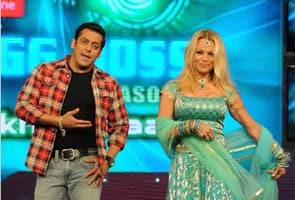 New Delhi:
"I will smash your face," the heavy-set soap opera actress yelled at the starlet, after implying she had a sordid past.
"Have you seen your face?" the starlet screamed in response. "It looks like a shoe."
This is reality television, Indian style. In a country where public kissing and handholding are largely frowned on, a fast-growing crop of prime-time reality television shows are attracting large audiences, and generating heated controversy, with unconventional guests and risqué situations.
"Bigg Boss," which puts unlikely housemates under one roof for 14 weeks, has featured a former armed bandit (a woman), a seven-foot tall professional wrestler (a man), a steady stream of Bollywood starlets, a cross-dressing Pakistani television host and one famous import -- Pamela Anderson, who did housework in a sarong and was almost subdued by comparison. "Bigg Boss" claims the largest audience of any reality show in India, with 114 million viewers here and 100 million more outside the country.
These new reality shows reflect a uniquely Indian form of chaos, but they are often a product of deals with foreign networks: "Bigg Boss," for example, is a result of a partnership between the local station Network 18 and the media conglomerate Viacom. Star, a unit of the News Corporation, has "Master Chef India" and "Perfect Bride," where mothers choose brides for their sons, and Sony's channels in India show "Kaun Banega Crorepati" or "Who Wants to Be a Millionaire," "Indian Idol" and "Maa Exchange," where, yes, mothers change places. Young Indian audiences are so enamored with reality television that they will not watch the soap operas and dramas that their parents or grandparents watch.
"What appeals to the youth is essentially reality programming," said Nikhil Gandhi, business head for UTV Bindass, UTV Software Communications' channel for Indian youth ("bindass" is Hindi slang that can mean things like "cool" and "go for it"). "It is difficult for them to watch a show that is fictionalized."
Foreign-style reality television may be plumping television channels' revenues, but it is alarming India's government, consumer groups and even organizations that support business. A growing chorus of critics are pushing India's government to introduce strict regulations for television like those covering the film industry.
"Many children today sit glued in front of the TV, being brainwashed by all sorts of demonic influences," states a November release from Assocham, or the Associated Chambers of Commerce and Industry of India. When they are alone, 76 percent of the children ages 12 to 18 that the group surveyed choose to watch reality television, the release said.
And the shows have had their share of problems, scandalous even by the American standards of "Jersey Shore" and "Celebrity Rehab." On an episode of "Rakhi Ka Insaaf" or "Rakhi Is Judge," some young, aspiring Bollywood actresses threw slippers at a producer they said had demanded casting couch favors. Another contestant committed suicide, his relatives claim, after the hostess of the show publicly called him impotent.
On "Swayamvar 2" (an adaptation of Swayamvara, an ancient practice of competition for a royal woman's hand), women competed to marry Rahul Mahajan, a divorced politician's son who had been arrested on charges of drug possession. One contestant, a women's rights activist, did a sultry cage dance to woo him. The winner, a model, separated from him four months after their marriage and accused him of domestic violence.
So far, though, attempts to curtail the genre have fizzled. A government plan to move "Bigg Boss" to the more adult-oriented hour of 11 p.m. died in court. "The government and the ministries need to understand a new era of television is emerging," said Mr. Gandhi, the business head for Bindass. "They need to take it in their stride."
India has had reality-based shows like "Who Wants to Be a Millionaire" and singing contests for a decade or more, said Farokh Balsara, national leader of the media and entertainment sector for Ernst & Young in India, "but the voyeuristic type of shows are more recent."
Analysts say the new shows are an outgrowth of India's competitive television market. Hundreds of new television channels have cropped up in India in recent years, because of the proliferation of cable networks, international entertainment companies' expansion in India and a growing middle class that can afford to pay, however modestly, for viewing.
Television revenue was a bright spot for an otherwise lukewarm Indian media industry in 2009, up 6.8 percent, to 257 billion rupees ($5.5 billion), according to the consulting firm KPMG.
The flood of reality shows has given India's growing number of television news channels, which increasingly rely on sensational footage to woo viewers, a rich vein to explore. Reporting about reality television has become a new specialty, particularly for local language channels, which go over the events of the programs in excruciating detail, especially when there are clips of a fight or a controversy.
Indian reality shows also have a technological edge: many are being buoyed by India's nearly 700 million mobile phone subscribers, who text in votes on the shows in the tens of millions. In India, these shows generate 30 to 40 percent of their revenue from texting and mobile phone interaction, more than twice what they do in the rest of the world, Mr. Balsara said.
Mr. Balsara added that he did not let his son, age 11, watch any reality shows. "We have quite strict rules," he said.