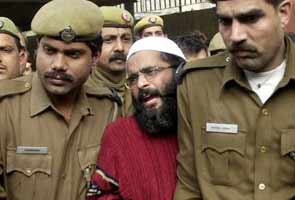 Srinagar:
When Afzal Guru was informed that he would be hanged on the morning of February 9, he asked for a paper and a pen to write a letter to his wife. However, the letter was mailed two days after his execution. Twenty-six hours later, the letter reached Afzal Guru's wife in Sopore in Kashmir despite a curfew, in contrast to the letter informing the family of his execution which reached two days after the hanging.
Below are the letter, its rough translation and the accompanying note written by the Tihar Jail Superintendent:
"6:25 am
9/2/2013
Respected family and all the believers.

Asalam u alikum
(peace up on you)
I thank almighty, that he has chosen me for this stature. From my side, I want to congratulate all the believers. We all should stay with truth and righteousness, and our end must also come on the path of truth and righteousness. My request to my family is that instead of grieving over my end, they should respect the stature I have achieved.
Almighty God is your greatest protector and greatest help.
I leave you in Allah's protection."