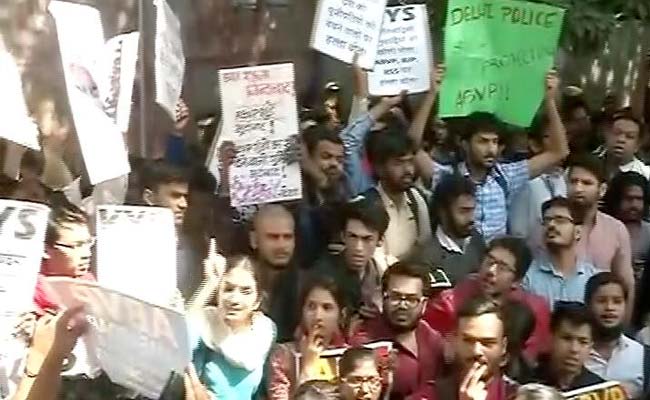 New Delhi:
Delhi Police's Crime Branch, which is probing the clashes at Ramjas College, has recorded the statements of 2 St Stephen's College students who were allegedly beaten up by supporters of ABVP.
The two St Stephen's students- a boy and a girl - have alleged that they were beaten up outside the Ramjas College canteen by ABVP supporters, said a senior police officer.
The girl has also alleged that she was hit with a stone by the ABVP supporters, he said.
The Crime Branch team has received 25 complaints so far, from both the sides and is contacting students to record their statements.
"We have contacted students to join the probe. AISA activists have said that they will come together to record their statement. We had also shared our email IDs with the students and in all, we have received 25 complaints," he said.
The complaints mainly pertain to molestation and being roughed up.
"There are some complaints that have claimed that while they were being roughed up, policemen were standing there. But none of the complainants have alleged that they were beaten up by the policemen," he said.
Meanwhile, senior Delhi Police officials also met Ramjas college authorities and requested them to ensure "peaceful coexistence of students of different ideologies".
"Since Ramjas College witnessed large-scale violence last week, officers had a word with representatives from the college. We told them to engage with students, irrespective of the ideologies they believe in.
"It was also discussed that a debate between different ideologies is essential for democracy but it should not be allowed to become violent," an officer said.
Cops are also in the process of meeting principals of other Delhi University colleges to ensure peace in the campus area.
Ramjas college had recently witnessed large-scale violence between members of the AISA and the ABVP. The genesis of the clash was an invite to JNU students Umar Khalid and Shehla Rashid to address a seminar on 'Culture of Protests', which was withdrawn by the college authorities following opposition by ABVP.