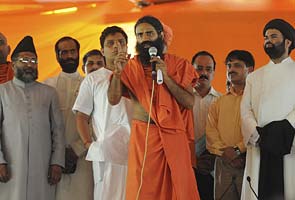 New Delhi:
Baba Ramdev asked his followers to mount a countrywide peaceful agitation to protest the sudden midnight police "brutality" at the Ramlila Maidan but kept on appealing to them not to retaliate violently, a close aide of the yoga guru said today.
"While leaving the Ramlila Maidan, he told us to organise peaceful protest through out the country against the police brutality. He asked us to question why innocent people were beaten up at 1 am in the night," Swami Sampurunand, second in command in Patanjali Yogpeeth, told PTI.
Sampurunand said Ramdev kept on constantly appealing to his followers to not retaliate violently in reply to the police action.
"I and others were sleeping when the police swept down at the venue and started to lathicharge. They then fired teargas shells leading to a huge melee," he said.
"We are not being able to contact him. We do not know where he has been taken to," Sampurunand said. He said he was holding Baba's hand during the melee.
He said police came to the protest site and started beating people and firing tear gas shells at 1 am.
"Despite the crowd, tear gas, Baba kept on asking his followers to not to resort to violent methods...He was ready to court arrest. But police lathicharged and fired teargas shells," he claimed.
"Ramdevji was suddenly missing from the spot and was seen no where by the followers", Sampurunand said.