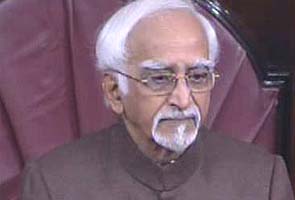 New Delhi:
Faced with repeated disruptions, Rajya Sabha Chairman Hamid Ansari today constituted a 3-member committee to explore the shifting the timing of the Question Hour from 11:00 am to 12 noon.
At a meeting of the Rules Committee, chaired by Mr Ansari, it was decided that a committee headed by Deputy Chairman PJ Kurien will hold wider consultations with the government and political parties on shifting the Question Hour, sources said.
The Committee, which has Union Minister Rajeev Shukla and BJP leader Chandan Mitra as members, has been asked to submit its report by the end of the current winter session. The last sitting of the Winter session is on December 20.
The meeting of the Rules Committee felt that shifting the Question Hour to 12 noon would enable members and political parties to raise matters of urgent public importance at 11 am.