New Delhi:
Highlights
In Lok Sabha, Congress spoke of the attack on Rahul Gandhi in Gujarat
Rajnath Singh said Mr Gandhi did not follow security protocol
He pointed out that Mr Gandhi even travels abroad without his securitymen
Union home minister Rajnath Singh today questioned what Congress vice president Rahul Gandhi "has to hide" for which he goes abroad without his securitymen, triggering a storm of protest from opposition leaders, some of whom accused the government of "spying". The minister's response came in Lok Sabha, where the Congress was trying to corner the government over the stone-throwing attack on Rahul Gandhi during his visit to Gujarat's Banaskantha last week.
Congress member Mallikarjun Kharge, who raised the issue, accused the Centre and the Gujarat government of failing to provide adequate security to Rahul Gandhi. For the state BJP workers, he had a further jab. "When Kashmir faces stone throwers we assume it is the terrorists, but it raises a question. Where did terrorists come from in Gujarat? Are the BJP workers of Gujarat trying to become terrorists and take his life?" he said.
The Union home minister, whose department handles special protection for VIPs, retorted with some data and a question. "In the last two years, Rahul Gandhi was out for 72 days on six foreign tours, but didn't take SPG cover," Mr Singh said. "We want to know what Rahul Gandhi is trying to hide by not taking SPG along on foreign tours."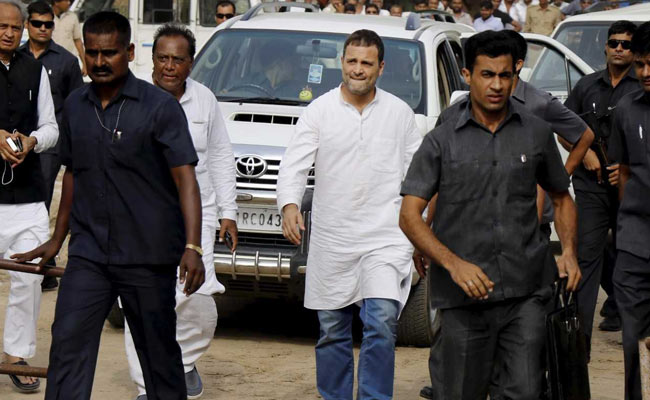 The minister accused Rahul Gandhi of ignoring security protocol during his Gujarat visit. "Two Bullet Resistance cars were provided for Shri Rahul Gandhi at Dhanera but he sat in a Non BR car while travelling," he later tweeted.
As the protests from placard-carrying Congress members intensified, Speaker Sumitra Mahajan adjourned the Lok Sabha till tomorrow.
National Conference leader and former Jammu and Kashmir Chief Minister Omar Abdullah reacted with a series of tweets.
If you want to know what he is up to I'm sure there are better ways than trying to use his bodyguards as spies. Use yr Intelligence agencies https://t.co/F31aqWYnMq

— Omar Abdullah (@abdullah_omar) August 8, 2017
This is why protectees become weary of their close protection teams - governments of the day use them to spy on people. https://t.co/F31aqWYnMq

— Omar Abdullah (@abdullah_omar) August 8, 2017
A stone was thrown at Mr Gandhi's car on Friday when he was on his way to a flood-hit location in Gujarat. The car's rear window had shattered. A member of the BJP's youth wing has been arrested and the police are on the lookout for three more persons.
Get Breaking news, live coverage, and Latest News from India and around the world on NDTV.com. Catch all the Live TV action on NDTV 24x7 and NDTV India. Like us on Facebook or follow us on Twitter and Instagram for latest news and live news updates.