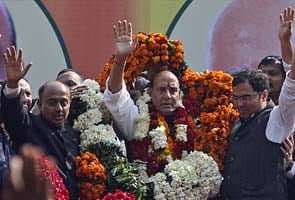 New Delhi:
Rajnath Singh
has been elected unopposed as the new president of the BJP till 2015. The 61-year-old will lead the party as it battles the Congress in next year's general election.
Mr Singh was chosen for the BJP's top post after several senior leaders objected to a second consecutive term for Nitin Gadkari, whose last few months in office have been overshadowed by charges of corruption. On Tuesday evening, he announced he would not seek re-election.
(Read: Ten latest developments)
"Yes, the dissidents have won. Gadkari did the right thing when he saw that there was no unanimity over his candidacy. Now there should be no dissenting voice on this at least," said MG Vaidya, a senior leader of the RSS, the BJP's powerful and controlling ideological mentor. (
Read: Conspiracy to tarnish my image, alleges Nitin Gadkari
)
The campaign against Mr Gadkari was led by BJP veteran LK Advani, who had argued that his continuance in office would suggest that the party is tolerant of corruption, a charge the BJP levels regularly at its rival, the Congress. In his speech today congratulating the new president, Mr Advani said, "Ours is a party with a difference. Our critics ask what makes us different. We must show that we do not compromise on morality," Mr Advani said. By stepping down, he said, Mr Gadkari has thwarted the BJP's critics.
(Track live updates)
There were other shows of unity. The outgoing and new presidents shared a car to the BJP headquarters this morning. Mr Singh said in his acceptance speech that the BJP fully supports Mr Gadkari as he battles charges of financial malpractice. Mr Gadkari told his party, "I did all I could as president... if I have made any mistakes, please forgive me." He stressed that he had decided not to seek re-election because he sensed "a conspiracy" in the expansive investigation centered around the Purti Group, which he founded in 2000. He quit as its chairman in 2009.
In October, NDTV revealed that a matrix of firms that invested in the Purti Group appeared to exist only on paper. Some shared addresses and directors. The Ministry of Corporate Affairs decided to investigate the firms. Money laundering and tax evasion are among the charges levelled at Purti and its investors.