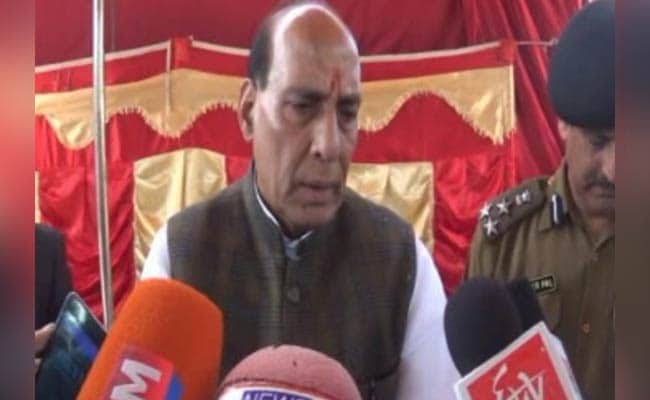 New Delhi:
Ahead of Republic Day, Home Minister Rajnath Singh, Defence Minister Manohar Parrikar, National Security Advisor Ajit Doval and other top officials today reviewed the security situation in the country as Delhi and many other places continue to be on high alert in the wake of Pathankot terror attack.
During the hour-long meeting presided by Mr Singh, the top brass of the country's security apparatus took stock of various aspects of internal security and analysed intelligence inputs received in recent past, official sources said.
Necessary instructions have been given to ensure security in all sensitive locations, border areas and major urban centres, including Delhi where the Republic Day's main function will be held with
French President Francois Hollande as the chief guest.
Chiefs of Intelligence Bureau (IB) and Research and Analysis Wing (RAW) shared various inputs gathered by the two organisations while chief of National Investigation Agency briefed about the ongoing probe into the terror attack on Pathankot air base, the sources said.
Recent intelligence inputs have suggested that there could be six to 10 Jaish-e-Mohammad (JeM) terrorists who had crossed over to India from Pakistan through Punjab in recent past.
Six suspected JeM terrorists were killed in the Pathankot air base after
three days of fierce gun battle
but there is a possibility of a few remaining at large, the sources said.
Besides, according to a Punjab Police input, there could be 15 terrorists who have breached the International Border and had entered India from Pakistan.
An additional 10,000 paramilitary personnel have already been deployed in Delhi to ensure greater security cover ahead of the Republic Day celebrations.
Security has been beefed up in Delhi's Indira Gandhi International airport too after another input suggested that terrorists may try to create a hostage-like situation.
Both domestic and international flights have been asked to upgrade the scale of security, with some passengers being made to undergo 'secondary ladder checking' in some flights.
A 'secondary ladder checking' is conducted just when the passenger is about to enter the aircraft with an aim to ensure that he is not carrying any weapon or chemical.
Today's meeting came a day after India and Pakistan
deferred the Foreign Secretary-level talks
and India gave the go-ahead to the visit of a
Pakistan Special Investigation Team
on Pathankot attack.