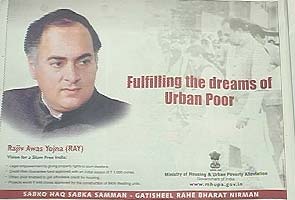 New Delhi:
A galaxy of ads - colour, black-and-white, half-page and smaller - all starring Rajiv Gandhi were nestled, many of them adjacent to each other, in today's newspapers. They varied in cost between one and four crores each, depending on whether the ad was created and placed by a private ad agency or by the Directorate of Advertising and Visual Publicity (DAVP), which coordinates the advertising needs of different government departments. At the former prime minister's
samadhi
(memorial) in Delhi, Mr Gandhi's wife, Sonia, who is the Congress president, was seen along with her daughter, Priyanka, at a service that was also attended by President Pranab Mukherjee and Prime Minister Manmohan Singh.
The government has not been unaware of the irony of PR campaigns having the opposite effect. So the Information and Broadcasting Ministry recently suggested that on special occasions, there should be just one ad placed on behalf of all ministries, and that the government's DAVP should coordinate its placement, because it is entitled to discounts from newspapers. The Finance Ministry is meant to drive home this point to other departments. The steel, commerce and power ministries are allegedly the worst offenders, often hiring private ad agencies to design and run their ads. Written rebukes from the Cabinet Secretary have been ignored, say sources, by ministries who like to prove to the party's leadership that their loyalty to the top rung, past and present, remains unshaken.
Today's expansive and expensive ad campaign appears just days after the government was taken to court by an NGO over its habit of spending taxpayers' money on self-promotion. Last week, the Foundation for Restoration of National Values, a non-profit that has industrialist Ratan Tata on its board, filed a Public Interest Litigation or PIL in the Supreme Court. The petition says that governments must be stopped from using public funds for "eulogising" and "glorifying" their achievements. "This wasteful and wholly unnecessary exercise, cannot be justified in any manner, particularly at a time when various development and beneficent schemes are not able to reach the masses and the unprivileged, owing to either paucity of funds or infrastructural deficiencies," the NGO said. The Supreme Court has agreed to hear this appeal, along with an older petition that objects to the government spending crores on the birth and death anniversaries of political leaders.
The gloomy financial climate has compelled the government to officially announce that it's in austerity mode; as part of its attempts to check expenses, five-star hotels are off-limits for seminars and official lunches; new parameters for foreign travel have also been mapped. In May, a Right to Information application filed by NDTV established that the Central government has spent Rs. 58 crore on ads in the last three years. Rs. 15 crore were spent on ads honouring Mahatma Gandhi; another Rs. 12 crore were used for ads in honour of BR Ambedkar.
Ads on the Gandhi family (Jawaharlal Nehru, Rajiv Gandhi and Indira Gandhi) added up to roughly Rs. 22 crore, and that did not include today's campaign.
The RTI also reveals that state governments are equally generous with their advertising expenditure - Andhra Pradesh, Delhi and Uttarakhand are the big spenders. In Andhra Pradesh, Rs. 8 crore have been spent in three years on ads for former chief minister YSR Reddy who died in a helicopter crash in 2009.