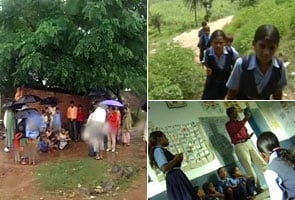 Ajmer:
India's standing is far lower than the African nations as far as education is concerned. For instance, in Rajasthan while the government insists that literacy has doubled in the last decade, the quality of education has plummeted and the student teacher ratio is abysmal.
At Kamlu Ki Dhaani, about 60 kms from Alwar, children don't even have a school building and the 116 children enrolled in the school sit under a tree. The government claims that the student teacher ratio is about 30 students to 1 teacher but this gets skewed when one gets away from the cities. At Kamlu Ki Dhaani, 116 children have just one teacher.
The villagers are angry because despite donating their land for the school, the government fund to make the building is stuck in red tape.
On paper the Rajasthan government claims that things are different. The government says that in the past 10 years Rajasthan's literacy figures have doubled especially when it comes to women's literacy. The government claims it is a state with one of the best student-teacher ratios but figures can be deceiving. While more children are getting literate, many more are not completing their education.
In 2005 there were more than 7 lakh children who were out of school. In 2010, more than 11 lakh children are out of school.
38 per cent of the girls in Rajasthan don't study beyond the age of 15.
For the one teacher in the primary school at Kamlu Ki Dhaani, teaching over a 100 children from class 1 to 5 is almost an impossible task.
Akbardeen, the teacher at the primary school says, "I can't even control these children, let alone teach them. There are five classes in the School."
That explains why even those studying in Class 5 cannot recite the alphabets properly.
A 5th grade student, Vakeela struggles with English numbers as it is never taught despite being a part of the syllabus.
Most parents in this village have never been to school but want their children to be part of the government's success story. But clearly it's a success story that has bypassed them.