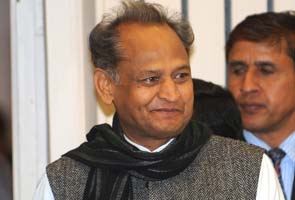 Jaipur:
Move over, Narendra Modi and Shashi Tharoor. The latest political leader to compete for popularity on the social media seems to be Rajasthan chief minister Ashok Gehlot. But his rivals claim he's faking it - can the majority of his followers be from Istanbul?
The 62-year-old Congress chief minister has been accused of "buying likes" for his official Facebook page, by the opposition BJP in Rajasthan.
Mr Gehlot's Facebook page is believed to have had 2,14,639 'Likes' till June 30, shooting up from 1,69,077 in May. This morning, the page had a healthy 215,000 'Likes'.
After a steep jump in 'Likes', Mr Gehlot's most popular city - indicating the city with the highest number of his followers - changed from Jaipur to Istanbul.
BJP's campaign managers who monitor the accounts of both Mr Gehlot and senior BJP leader Vasundhara Raje, noticed the jump and cried foul.
BJP spokesperson Jyoti Kiran alleged that the chief minister had bought 'Likes' in bulk from IT firms in Istanbul, to project popularity.
This adds another twist to the BJP-Congress social media war, with the national BJP too taking a swipe at Mr Gehlot.
"Congress social media misadventure in buying 'likes' for the ex-chief minister's Facebook account exposed by the Rajasthan BJP. Gehlotji more popular in Istanbul?', tweeted BJP's national spokesperson Nirmala Sitharaman today.
But the Rajasthan Congress spokesperson Archana Sharma calls it a BJP conspiracy to damage the prospects of the ruling Congress ahead of state polls this year. Her allegation - the BJP did the same to prop up Gujarat chief minister Narendra Modi, and now they are doing it to show Mr Gehlot down.
Speaking to NDTV, Ms Sharma said, "Mr Gehlot is known for his probity. Anyone can 'like' anyone across the world. There are no checks and balances on Facebook."
She alleged that the BJP has bought 'Likes' in the past and now they are doing it to defame Mr Gehlot.'