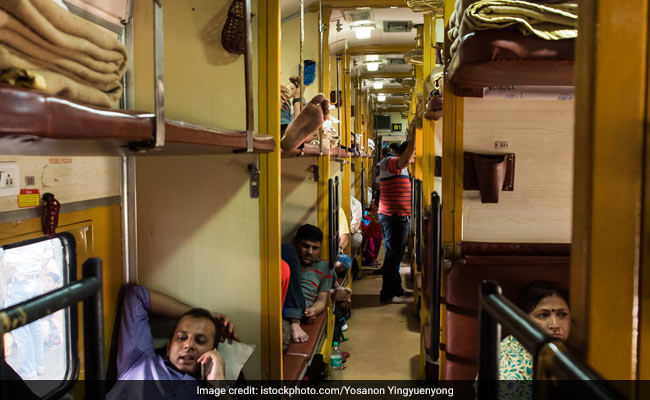 Highlights
Passengers in reserved coaches can only sleep between 10 pm and 6 am
One can't lay claim on the lower side berth during the said time
Exception for sick people, persons with disability, and pregnant women
New Delhi:
If you a frequent train traveller, you must have witnessed those tiresome fights over berths and stretched sleep time. In its effort to provide a comfortable travel to its passengers and put an end to those unnecessary quarrels that break out due to oversleeping passengers on different berths, the Railways has decided to reduce the official sleeping hours in its trains by an hour.
The latest circular by the railway board says that the passengers in the reserved coaches can only sleep between 10 pm and 6 am to allow others to sit on the seats for the rest of the time. The earlier permissible sleep time was between 9 pm and 6 am.
The new rule will be applicable to all reserved coaches with sleeping facilities. The circular, however, makes an exception for sick people, persons with disability, and pregnant women.
"We had received feedback regarding issues between passengers over sleeping arrangements. We already have a rule in place. However, we wanted to clarify it and ensure it is followed," said Railways ministry spokesperson Anil Saxena.
The sleeping time was reduced by an hour, an official said, because some passengers go to sleep as soon as they board the train leaving their fellow travellers on different berths irritated. "This happens all the time on trains. Once, there was a passenger on the lower berth who slept all through the journey from Kolkata to Delhi, while the man on the upper berth had to remain there and others on the middle berth sat perched in one corner of the lower berth through the trip," said Sachin Singh, a businessman.
Officials said that the problem is more acute for side berths. The circular has clarified that a person booked on side upper berth will not have any claim of seat on the lower berth between 10 pm and 6 am.
The Railways has been trying to revitalise its wide rail network in the country and taking initiatives for a enhanced passenger experience. From on-board entertainment, refurbished coach interiors, comfortable seats, improved sanitation infrastructure and maintenance of cleanliness on superfast trains such as Rajdhani and Shatabdi to hygienic ways of handling food, special trolleys, clean linen and an option to give instant feedback on the food served on a tablet, the Railways is finally on the right track.
(With inputs from PTI)