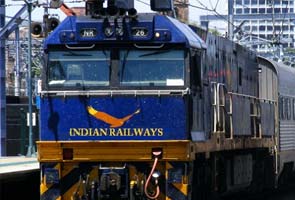 New Delhi:
Pawan Bansal is the first Congress minister after a gap of 17 years to present a Rail Budget. So, he started with a vote of thanks.
"I am grateful to the Honorable Prime Minister Dr Manmohan Singh and the UPA Chairperson Smt. Sonia Gandhi and pay my homage to the sacred memory of Shri Rajiv Gandhi who introduced me to the portals of this highest temple of Indian democracy."
Once thanksgiving was over, it was time for the sops. Sonia Gandhi's constituency Rae Bareli gets a new factory to manufacture wheels for trains with an investment worth thousands of crores. This is in addition to the rail coach factory set up last year for Rs 2500 crores.
The Rail Minister's own constituency of Chandigarh got a signalling equipment facility. "You see we have not incurred any investment here since BHEL is setting it up," Mr Bansal told NDTV.
Three Congress-states - Andhra Pradesh, Haryana and Rajasthan - also landed large manufacturing projects which will generate thousands of jobs. Rajasthan goes to polls later this year, while Andhra Pradesh and Haryana will vote next year.
Though BJP-led Madhya Pradesh and BJD-ruled Odisha also get factories, the Opposition and even government allies like Mulayam Singh Yadav said the Congress had been showered with gifts. Yashwant Sinha said "This is not a Rail Budget but a Rae Bareily Budget."
"Why have they ignored places like Etawah, Mainpuri, Badayun, where we come from? This is a Budget mainly meant for the Congress and their supporters. People will teach them a lesson in the next elections," said Mulayam Singh Yadav.
Former Rail Minister Lalu Prasad Yadav wondered: "Few years ago, people used to come to study the Railways turnaround story. Where have all the profits gone?"
Mr Bansal's party, however, gave him an A+. "I think after many years he has candidly stated the state of finances of the railways and within the resources the railways can mobilise, I think he's done a remarkable job of providing new trains, new lines, extensions, capital works and production facilities," said Finance Minister P Chidambaram whose budgetary skills will come under scrutiny in about 48 hours.