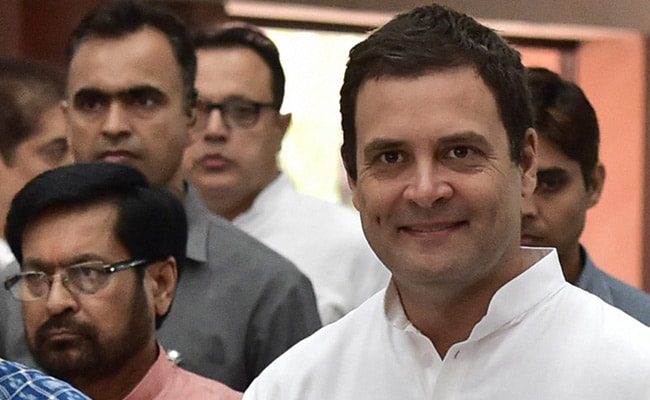 New Delhi:
When senior Janata Dal-United leader Sharad Yadav talked of raising the farmer unrest in the country to corner the Modi government at Tuesday's meeting of Opposition parties, many leaders present wanted to know whether Mr Yadav was speaking for himself or for his party, which is led by Bihar's Chief Minister Nitish Kumar, who has recently been seen to align more with the ruling BJP on key issues.
Sources told NDTV that a senior lawmaker seated next to Rahul Gandhi wanted him to ask Mr Yadav this directly, but the Congress Vice President didn't do that and instead turned to the Left's Sitaram Yechury. The CPM chief had no compunctions and without wasting any time asked him straight.
Sharad Yadav, who headed the JD(U) till last year, said the distress of farmers was an issue that his party was deeply concerned about and that his views were in sync with his party.
"We certainly respect Sharad Ji's opinion but even during the notes ban his views were different from that of the Bihar Chief Minister," said a senior Opposition leader who didn't wish to be identified.
Nitish Kumar had broken ranks with the Opposition last year to welcome Prime Minister Narendra Modi's ban on high value notes to combat corruption and black money.
More recently, he has backed the BJP's nominee for President instead of the candidate fielded by the Opposition. When Congress President Sonia Gandhi hosted Opposition leaders for lunch to discuss the Presidential elections last month, the Bihar Chief minister had given the event a miss. But the very next day, he flew down to Delhi to attend an official lunch hosted by Prime Minister Modi in honor of the visiting Prime Minister of Mauritius.
Nitish Kumar's recent actions have been seen to signal a growing closeness with one-time ally the BJP and a string of corruption charges against current partner Lalu Yadav and his family has only widened their differences.
Nitish Kumar would like to maintain his reputation as an honest administrator untainted by corruption scandals during his 12 years in power and has put Lalu Yadav and his son Tejashwi Yadav, who is his deputy in the state government, on notice yesterday,
asking them to "come clean on the corruption charges."
The sub text is that Tejashwi Yadav must resign to save their alliance.
Nitish Kumar did not attend yesterday's Opposition meeting either, sending Sharad Yadav instead. It was called to discuss who a joint Opposition would field for Vice President. They decided on Gopalkrishna Gandhi, former West Bengal Governor and Mahatma Gandhi's grandson, who Nitish Kumar had earlier endorsed as a good candidate for President.
Sharad Yadav cast the JD(U)'s vote in Gopal Gandhi's favour. In a phone conversation hours later, however, Rahul Gandhi also secured an official confirmation from Nitish Kumar that he will back the opposition's candidate for Vice President.