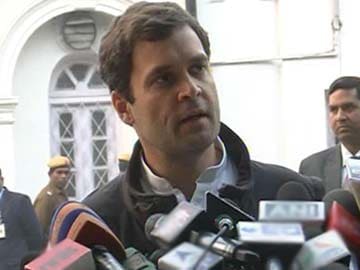 Kolkata:
Congress does not have any credible alternative to challenge the BJP, party leader Smriti Irani claimed today and said Congress vice-president Rahul Gandhi has become a challenge for his own party after its consecutive defeats.
"In Uttar Pradesh elections too the Gandhi family had to lose. Congress may declare it prime ministerial candidate. But one thing is for sure that Congress has to taste defeat in the hands of BJP-led by Narendra Modi," Ms Irani, vice-president of BJP, said in the sidelines of a programme in Kolkata.
"If they (Congress) had any alternative they would have declared it by now. They don't have any credible alternative, which is proven by the fact that Sonia Gandhi is yet to declare the PM candidate and has adopted a wait and watch policy," she said.
Ms Irani said Congress spokespersons while speaking on the poll debacle in three states yesterday, did not clarify whether this debacle was due to political functioning of Rahul Gandhi.
"Yesterday none of the Congress spokesperson while speaking answered the question whether this defeat was due to Rahul Gandhi's style of functioning. This was because they know it very well that Rahul Gandhi himself has become a challenge for the party," she said.