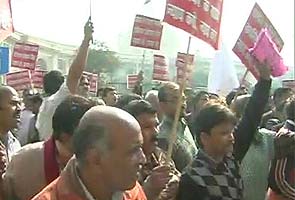 Lucknow:
Around 18 lakh government employees in Uttar Pradesh called off their strike against the quota in promotions bill after the Samajwadi Party succeeded in blocking the legislation from being passed in Lok Sabha on Thursday.
Lok Sabha was adjourned sine die after the month-long winter session, but not before repeated adjournments forced by the Samajwadi Party and the Bharatiya Janata Party against the quota bill.
The bill seeks to provide reservation for scheduled castes and scheduled tribes in government job promotions and has been passed in the Rajya Sabha. The BJP had backed the bill in the Upper House but changed its stance in the Lok Sabha.
The Samajwadi Party has been vociferously opposing the bill both inside and outside Parliament. In Uttar Pradesh, where the party is in power, government employees went on an indefinite strike against the bill, crippling work in key government departments for the past one week.
Demonstrations were held on the streets and trains stopped, but essential services like hospitals, power and transport were unaffected.