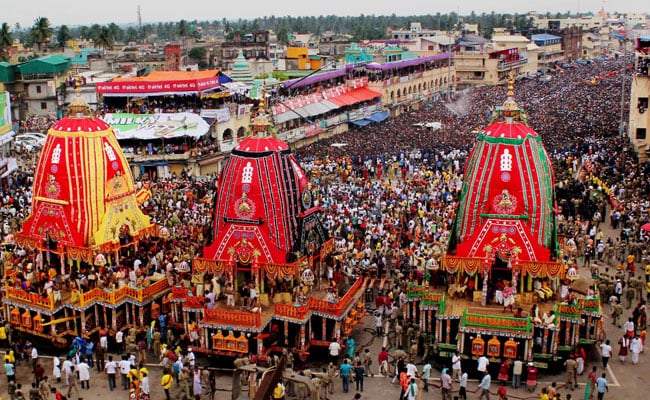 Bhubaneswar:
Devotees, undeterred by the heavy downpour, thronged the town of Puri for the world-famous annual Rath Yatra of Lord Jagannath and his siblings that began on Sunday. Lakhs of people have gathered at the pilgrim town to witness Lord Jagannath, Lord Balabhadra and Devi Subhadra riding three giant wooden chariots which are pulled by devotees on the Bada Danda (Grand Road) as they travel to Gundicha temple.
Odisha Chief Minister Naveen Patnaik, BJP national chief Amit Shah and several central and state ministers greeted devotees.
Director General of Police (DGP) KB Singh said elaborate security arrangements have been made and hundreds of personnel have been deployed for the chariot festival.
Rath Yatra (chariot festival) marks the annual journey of the three deities from the 12th century Jagannath temple in the chariots to the temple of Devi Gundicha, their aunt. The celebration ends nine days later with Bahuda Yatra or the return journey of the three to their temple. The rituals started early in the morning.
The 'pahandi' of the deities began around 10.30 am, when the three gods along with Lord Sudarsana were taken out in a procession to their chariots parked in front of the temple as the entire Bada Danda reverberated with the sounds of ghanta (cymbals), kahali (type of flute), mahuri (a double reeded instrument), pakhauja (a variant of mridangam), mardal (similar to pakhawaj) and bells.
After the deities were placed on their respective chariots, Puri King Gajapati Divyasingh Dev performed 'chhera panhara'. Then the pulling of chariots began, said Shree Jagannath Temple Administration (SJTA) chief Pradeep Jena.
People from all religions and walks of life participate in the three-km long procession. Except for Hindus, people from other faiths are not allowed to enter the temple on other days.