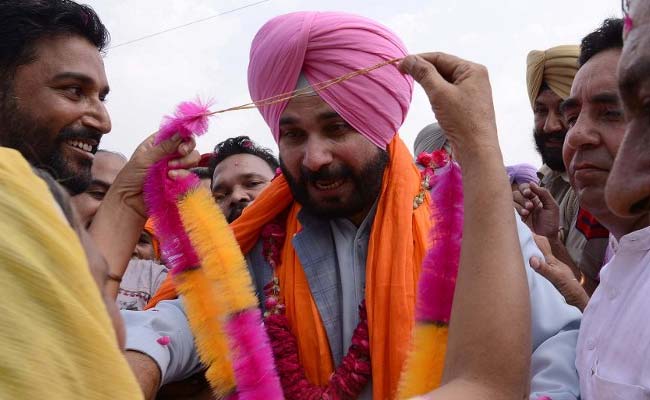 Highlights
Congress yet to announce candidates for Punjab election
Mr Sidhu wants 4 or 5 seats and also Amritsar parliament seat for himself
Mr Gandhi to hold meeting today to finalise candidates for Congress
New Delhi:
With Rahul Gandhi back in town after a holiday abroad, the Punjab Congress hopes to wrap up selection of candidates - the party is yet to announce candidates for 40 of the state's 117 seats even a week after assembly elections were announced. Rivals Akali Dal-BJP and the Aam Aadmi Party are well off the mark and campaigning hard.
Mr Gandhi will head a meeting today to finalise candidates for the party, which released its manifesto for Punjab only yesterday. Nominations begin tomorrow and the state will vote on February 4.
The ever changing demands of cricketer-turned-politician Navjot Singh Sidhu, says sources, are part of the problem. Mr Sidhu, slated to join the Congress for weeks now, reportedly has new terms - he wants a seat to contest not only for himself, but also his wife, who has already joined the party, and other associates. Four or five seats is his latest demand, said sources, and he also wants the Amritsar parliament seat, which he once held as a BJP man, thrown in.
That puts the Congress in a tight spot - it already has more than two strong claimants for most of the 40 assembly seats for which it is yet to announce candidates and faces rebellion from those who will be left out. In such a situation, five seats for the Sidhu team will be a stretch for the party.
The Congress' offer to Navjot Sidhu so far is the Amritsar East Assembly seat for him to contest and the Deputy Chief Minister's post if the party wins. Mr Sidhu had reportedly agreed to this, paring down an initial demand of 18 seats, but now wants some more.
The Sidhu camp says the current Congress offer barely matches the Aam Aadmi Party offer that he spurned. Arvind Kejriwal's party too had offered to project Mr Sidhu as deputy Chief Minister, like the Congress refusing to field him as presumptive Chief Minister.
Navjot Singh Sidhu quit the BJP last year and has been negotiating with rivals AAP and the Congress since July to setttle on his next political destination.