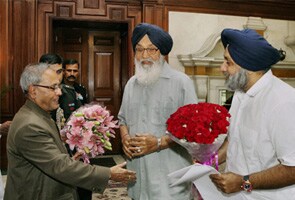 New Delhi:
A delegation of Punjab's ruling Shiromani Akali Dal (SAD), led by Chief Minister Parkash Singh Badal, met President Pranab Mukherjee today to seek clemency for the 1993 Delhi bomb blast convict Devinderpal Singh Bhullar.
The chief minister, along with his son and Deputy Chief Minister Sukhbir Singh Badal - who is also the Akali Dal chief, met the president at Rashtrapati Bhavan in the capital.
"We requested the president to pardon Bhullar for the sake of hard-earned communal harmony and peace in Punjab and the rest of India," Mr Badal told reporters after the meeting.
"There are other technical points and according to law when somebody is very, very sick, he should not be hanged. For the last two-and-a-half years, he has been very sick," he said.
The SAD leaders met Prime Minister Manmohan Singh on Monday.
The Supreme Court last week rejected a petition by Bhullar seeking that his death sentence be commuted to life imprisonment as his mercy plea had not been decided by the president for a long time.
Bhullar was given capital punishment for the 1993 blast at the Indian Youth Congress office in Delhi that left nine people dead and 17 others injured.
The attack targeted former Indian Youth Congress president MS Bitta.