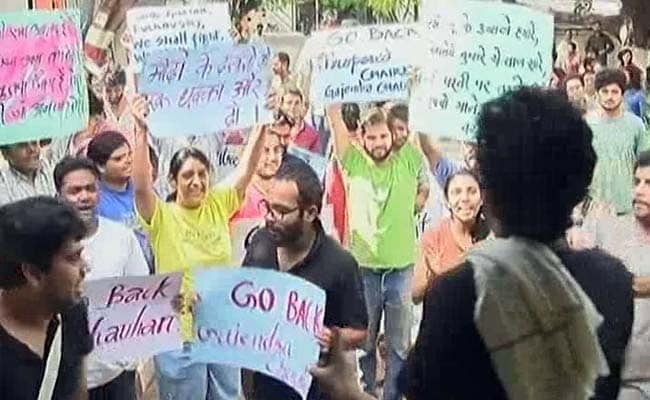 Pune:
The Information and Broadcasting Ministry has not responded yet on the demand of the students of FTII of removal of TV actor and BJP member Gajendra Chauhan from the post of chairman of its governing council even as their strike entered the fourth day today.
"We have written to the I&B Ministry about our demands.
There is no response as yet," Film and Television Institute of India (FTII) students' association president Harishankar Nachimuthu told PTI today.
Asked about the content of the letter sent to the ministry, he said, "We will wait till a reply is received" but asserted the strike will continue till the demand is met.
Meanwhile, 'Swaraj Abhiyan' leader Yogendra Yadav, who was here to address a farmers' meeting against the land bill, also visited the institute to support the students "just demands".
Mr Yadav alleged that Modi government does not understand the word 'autonomy' and this is not the first institution where "autonomy is being eroded" by it.
"The real question is of degradation of all institutions where people without necessary qualification are being appointed," the former AAP leader said.
This is an assault on the finest institution of the country which is not in the interest of the nation, he said.
Mr Yadav said the earlier government also did the same thing, but the present government has "hit the rock bottom."
Among film personalities to pledge support to the agitation was documentary-maker Anand Patwardhan, who visted the campus and said he was "glad that students stood up against increasing politicisation of institutions by current government. I know what is happening throughout the country and I am not surprised by this trend," he said.
The FTII students' association has alleged that the Mr Chauhan - a TV actor who played 'Yudhishthir' in popular serial "Mahabharat" - does not have "vision and stature" of his eminent predecessors to merit his posting by the government.
The protesting students had yesterday said they don't need a "puppet" of Prime Minister Narendra Modi. The students had slammed the Centre for trying to "undermine" the autonomy of FTII by making "partisan appointments".
"Mr Modi we don't want your puppet", read one of the posters put up at the FTII gate yesterday.