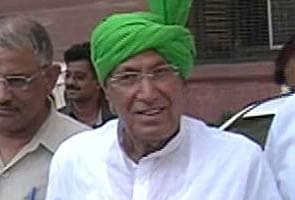 New Delhi:
Thousands of supporters of Indian National Lok Dal (INLD) chief Om Prakash Chautala protested outside the Delhi court today when the former Haryana chief minister arrived for hearing of arguments on his sentencing in the case of illegal recruitment of junior teachers in the state.
Holding the party flag, Mr Chautala's supporters forcibly stopped the jail van by climbing on to the vehicle.
The police personnel tried to disperse the crowd, which was shouting slogans against the authorities and the cops present there, and also closed the main gates of the premises.
The large number of supporters kept on standing outside the court lock-up, where Mr Chautala, his son Ajay and other 53 convicts are lodged.
All the roads leading to the court complex were full of cars of INLD supporters and workers. Around 300-350 supporters were seen standing outside the court room where the case is being heard.
Other than the 55 accused, their counsel, prosecutors and the court staff, the judge has not allowed anyone else to enter the court room during the hearing.
Mr Chautala, his MLA son Ajay and 53 others including two IAS officers were yesterday convicted on corruption and other charges by a Delhi court for illegally recruiting 3,206 junior teachers 12 years back, and were sent to Tihar Jail.
The court has fixed January 22 to pronounce the sentence.