New Delhi:
Pictures of Army veterans being pushed around in Delhi drew immediate public uproar, forcing the city's police to back off protests that it tried to truncate at Jantar Mantar, the capital's designated spot for public protests.
This morning, the police asked former army officers to move out of the heart of the capital where they have been demonstrating for two months, living out of a pair of tents, to demand that the government commits to One Rank One Pension or OROP. The nearly decade-long campaign says former army officers and soldiers must get the same pension as those of the same rank who are retiring now. Existing policy creates a huge disparity, with former officers getting pensions far lower than those several ranks junior to them who retired later.
"How can you doubt our integrity? Or consider us a security threat? We are fighting here for a legitimate demand which the government should have given without asking," said one of the army veterans. The police later withdrew an order for the protesters to leave Jantar Mantar this evening.
Congress Vice-President Rahul Gandhi visited the demonstration to loan his support for "those who guard our borders", but did not explain why his party's coalition government failed to make any progress on OROP when it was in power. Slogans against him were chanted at the demonstration.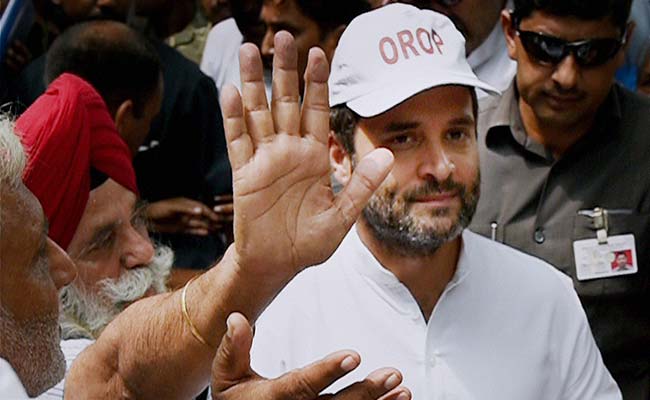 There has been speculation about whether, in his Independence Day speech tomorrow, Prime Minister Narendra Modi will announce OROP, without getting into details, including the rates at which pensions will be decided.
Yesterday, highlighting the need for urgent intervention, a group of retired military chiefs wrote to President Pranab Mukherjee. "The very fact that the nation's military veterans have had to take resort to agitational methods and that the government could tolerate their denigration or humiliation has come as a rude shock to all of us," says the letter.