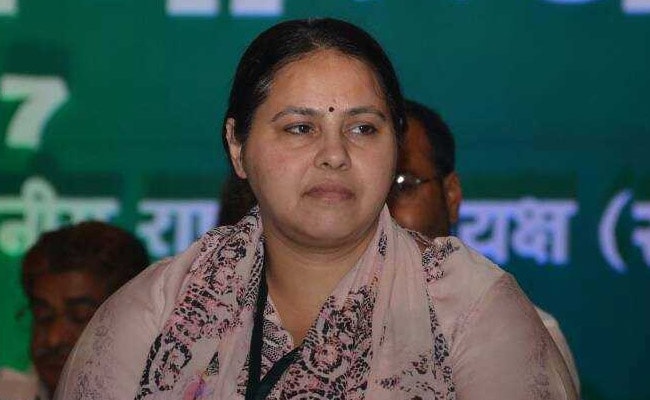 New Delhi:
RJD chief Lalu Prasad Yadav's MP daughter Misa Bharti was questioned by the Enforcement Directorate (ED) in Delhi today in the railways land-for-jobs linked money laundering case, officials said.
Ms Bharti, 46, is a Rajya Sabha MP of the Rashtriya Janta Dal. She went into the federal agency's office in central Delhi around 11 am following which her statement is understood to have been recorded under the Prevention of Money Laundering Act (PMLA).
Her brother and Bihar Deputy Chief Minister Tejashwi Yadav deposed for questioning before the CBI in Delhi on Saturday in the same case.
Both the central agencies recently initiated action in the case, with the CBI questioning Lalu Prasad and his wife and former Bihar chief minister Rabri Devi and the ED carrying out raids against the RJD chief's family.
The Enforcement Directorate, after the searches, said it seized "unaccounted cash" of Rs 1 crore and detected proceeds of crime worth Rs 600 crore.
It said the investigation was underway to unearth more investments made on behalf of Prasad's family and their associates in various sectors, including real estate, at various places.
The alleged scam pertains to the period when Prasad was the railway minister in the UPA-1 government at the Centre.
It's alleged that during the period 2004-09, various persons were appointed to Group D positions in various zones of the Indian Railways, and in lieu, the persons concerned transferred their land to the family members of Prasad, the then minister of railways, and A K Infosystems Pvt Ltd, a beneficiary company in this case.
It's alleged by the CBI that no advertisement or public notice was issued for appointment but some residents of Patna were appointed as substitutes in different zonal railways located at Mumbai, Jabalpur, Kolkata, Jaipur and Hazipur.
As a quid pro quo, the candidates, directly or through their immediate family members, allegedly sold land to the family members of Prasad at highly discounted rates, up to one-fourth to one-fifth of the prevailing market rates, the CBI had alleged.
Tejashwi Yadav, after the questioning of his parents by the CBI, has told reporters that the then railway minister Prasad had "no powers" to give employment in exchange for favours.
(Except for the headline, this story has not been edited by NDTV staff and is published from a syndicated feed.)