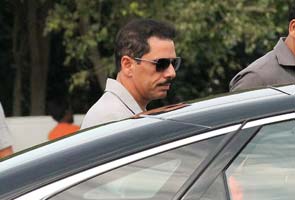 New Delhi:
The Prime Minister's Office (PMO) has cited confidentiality and refused to answer a Right to Information application related to the controversial land deals of businessman Robert Vadra. (
See the PMO's reply
)
Mr Vadra is the son-in-law of Congress president Sonia Gandhi, often described as the most powerful person in the country.
Last year, Nutan Thakur had filed a Public Interest Litigation or PIL in Uttar Pradesh asking that Dr Manmohan Singh's office order an investigation into whether Mr Vadra was given sweetheart land deals by real estate major DLF in the state of Haryana, where the Congress is in power.
Ms Thakur's appeal was rejected by an Allahabad court after the Prime Minister's Office (PMO) said it could not order a probe in business dealings between two private entities. The PMO's response was listed in an affidavit to court.
The court observed that her petition was based solely on media reports and was not backed by direct evidence.
Ms Thakur then filed a Right to Information application, asking for details of documents and notings that were used to prepare the PMO's affidavit. She also asked for details of what action did the PMO take - whether it involved other ministries, for example - after she filed her petition in court seeking an investigation against Mr Vadra.
In its response to her, the PMO has said that while the Right to Information Act aims at creating transparency to contain corruption and increase accountability, it also seeks to "ensure that revelation of information, in actual practice, does not harm or adversely affect other important public interests which include efficient functioning of the governments, optimum use of limited fiscal resources, and preservation of confidentiality of sensitive information."
Get Breaking news, live coverage, and Latest News from India and around the world on NDTV.com. Catch all the Live TV action on NDTV 24x7 and NDTV India. Like us on Facebook or follow us on Twitter and Instagram for latest news and live news updates.