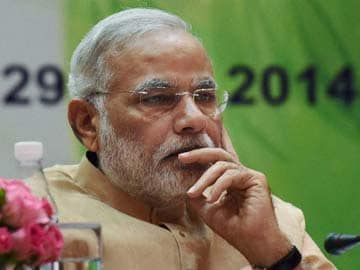 New Delhi:
Prime Minister Narendra Modi, who received a standing ovation from some of India's top agricultural scientists today while addressing his first public event after taking charge, said the applause should be directed towards the nation's farmers instead.
Mr Modi, who addressed the 86th Foundation Day function of the Indian Council of Agricultural Research or ICAR today, laid down three clear mantras for Indian agriculture.
(Highlights of his speech)
Emphasising on the need to boost productivity within the constraints of time and land, Mr Modi advocated a policy of, "
Kam zameen, kam samay, zyaada upaj
" (Smaller land, shorter time, more productivity).
In his second mantra -- "per drop, more crop" -- he urged agri scientists to work towards increasing crop productivity with a focus on improved irrigation methods.
Scientists should work fast on productivity without compromising on quality, said Mr Modi, adding that it was imperative that scientific knowledge reach farmers in the field.
"We need to think of how to reach out to farmers," Mr Modi said, adding, "Farmers need to be empowered more in order to produce more and earn more...Per drop, more crop, should be the new mission statement."
The Prime Minister also sought a 'blue revolution' -- along the lines of India's green revolution and white revolution that had made the country self-sufficient in wheat and milk production -- to invigorate the fisheries sector.
Though scientists claim that research in the field of agriculture has witnessed the highest return in lieu of the amount invested, it has not seen a momentous step forward in decades.
A frequently quoted statistic is that while agriculture contributes only four percent to the Gross Domestic Product or GDP, more than 60 per cent of the country's burgeoning population depends on it for direct or indirect employment.
"India's population today is at 1.2 billion. By 2050 it will be 1.5 billion. To feed all those people, our food production will have to double," said Pallava Bagla, NDTV's Science Editor who received the ICAR Chaudhary Charan Singh Award for Excellence in Agriculture Reporting at the event.