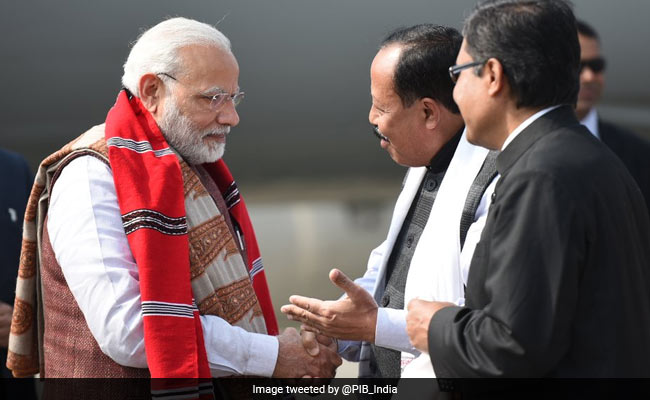 Itanagar/Agartala:
Prime Minister Narendra Modi
has today kicked off a day-long visit
to Arunachal Pradesh and poll-bound Tripura, where he is scheduled to participate in a host of programmes. In Arunachal Pradesh's capital Itanagar, PM Modi will launch a new 24x7 Doordarshan channel, known as DD Arun Prabha. The channel is meant to showcase programmes on the north east states' diverse cultures. This will be the second Doordarshan channel dedicated to the north east, after DD North-East, which telecasts entertainment and information-based programmes.
PM Modi will also inaugurate the Dorjee Khandu State Convention Centre at a programme in Itanagar.
He will also inaugurate Arunachal Pradesh's Civil Secretariat complex in Itanagar and lay the foundation stone of the academic block at the Tomo Riba Institute of Health and Medical Science.
After attending these programmes, PM Modi will address two rallies in Tripura, where the BJP is looking to unseat the current Manik Sarkar-led Left government. The first rally is scheduled to be held at the Santirbazar town located in south Tripura, while the second rally will be held in Agartala.
Today will mark the penultimate day of campaigning for the elections, which will begin on February 18. PM Modi had visited the state last week as well, with high profile campaigners from the BJP, like Amit Shah, Rajnath Singh, Nitin Gadkari and Yogi Adityanath.
Here are the LIVE updates from PM Modi's visit to Arunachal Pradesh and Tripura:
PM Modi highlights plans for healthcare in the state

PM Modi said that for healthcare in Arunachal Pradesh, the government's plan is to have a hospital in each of the three parliamentary constituency areas.

He said that in the 2018 Union Budget, provisions of wellness centres in rural areas have been kept and that in every panchayat, a centre will be there.

PM Modi said that in every block, one or two centres will be developed for farmers to sell their cash crops.

He also said that the government wanted to make medical education reach remote areas as well.