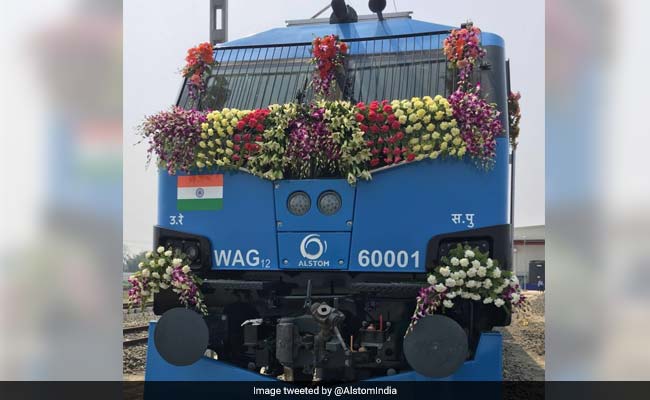 Highlights
PM has pitched the occasion as celebration of his Clean India mission
The train is the first big Make-in-India project completed by French firm
Mahatma Gandhi launched Champaran Satyagrah against British rule
Motihari, Bihar:
In Patna to mark the centenary celebrations of Mahatma Gandhi's Champaran Satyagraha, Prime Minister Narendra Modi today unveiled a handful of projects worth around 6600 crore, flagged off India's first all-electric superfast train and gave a boost to the Clean India mission. There was also a show of solidarity with Chief Minister Nitish Kumar, whose ties with the BJP recently hit a rough patch. The two leaders agreed on the need for peace and harmony in the country. The Prime Minister praised Mr Kumar -- who had received him at the airport with a rose-- on his administrative abilities and efforts to steer the state towards development.
Here is your 10-point guide to Prime Minister Narendra Modi's Bihar visit:
Flagging off India's first all-electric high-speed locomotive -- developed in collaboration with French firm Alstom at Madhepura's Electric Locomotive Factory - through video link, Prime Minister Narendra Modi said the factory was important for two reasons. "Firstly, this is a good example of Make in India, and secondly, it is also becoming a major medium of employment in this area," he said.

The project, he said, was approved in 2007, but got stalled for the next 8 years. "Three years ago, the NDA government started work on it and now has completed the first phase," he added.

The train is the first big Make-in-India project completed by Alstom. Under the agreement with Alstom, 800 such trains will be made over the next 11 years, at a cost of Rs. 20,000 crore. The high-speed freight locomotive, with a 12,000 horsepower engine, will have a maximum speed of 120 km per hour, Alstom says.

PM Modi also launched the Champaran Humsafar Express, which will run from Bihar's Katihar to Old Delhi. "A train equipped with modern amenities will prove to be very helpful to you in visiting Delhi," the Prime Minister said.

The Prime Minister -- who had pitched the occasion as a celebration of his Clean India mission, calling it the "Satyagrah se Swachhagrah" -- addressed 20,000 Swachhagrahis or cleanliness ambassadors from across India, who had been camping in Motihari. Ten of them received special awards for their contribution to cleanliness in their villages.

"Bihar was the only state where the scope of hygiene was less than 50 percent, but I have been told that after this week's Swachhagraha campaign, Bihar broke that barrier," he said.

PM Modi also launched several water and sanitation projects, which included four big ticket sewage treatment plants that are crucial to Clean Ganga mission. Eleven projects worth over Rs 3,000 crore have been sanctioned so far in the state to stop the flow of untreated water to Ganga river.

Last year, the Bihar government launched year-long celebrations to mark the centenary of Champaran Satyagraha movement of Mahatma Gandhi. The campaign, launched on April 10, 1917, was to fight for the rights of farmers who were forced to cultivation indigo by the Britishers.

"I salute the spirit of Mahatma Gandhi present inside every individual. Those who say that history does not repeat itself, should come here and take a look at the mass movement," the PM said.

The Prime Minister also laid the foundation stone for a road lane of NH-2 at the Auranagabad Bihar-Jharkhand border, a petroleum oil and LPG terminal of Indian Oil Corporation Ltd at Motihari, and an LPG Plant of HPCL at Sagauli.
Post a comment