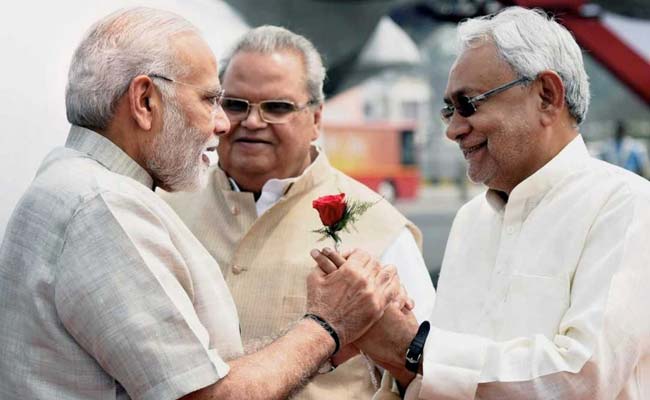 Highlights
Nitish Kumar said respect for every religion vital for progress
PM Narendra Modi responded with a compliment instead of a counter
PM Modi called Nitish Kumar a "patient and able administrator"
Patna:
At an event in Bihar today, messages flew between Prime Minister Narendra Modi and Nitish Kumar in the middle of a
rough patch between the allies
over recent communal violence in the state. Sharing the stage with PM Modi, the Bihar chief minister stressed that peace, harmony and respect for every religion were vital for the country's progress.
The Prime Minister, who can't afford to upset another ally in an election year, responded with a compliment instead of a counter.
The two
were in Motihari
, around 150 kilometres from Patna, to mark the centenary of Mahatma Gandhi's
Champaran Satyagraha
. They drove down from the airport, where Nitish Kumar greeted PM Modi with a rose.
"Violence and tension cannot solve anything in our society. Peace, harmony, respect for all religions and castes is needed. The country will move ahead only with love and amity, not
tanaav
and
takraar (
tension and clashes)," Nitish Kumar said, in presence of Union Ministers Giriraj Singh and Ashwini Choubey, who were at the centre of the recent controversies. The two ministers were sharing stage with the chief minister.
PM Modi called Nitish Kumar a "patient and able administrator" and praised him for the way he was fighting "anti-social elements".
In what appeared to be a reference to Lalu Yadav, Nitish Kumar's former ally jailed for corruption, PM Modi said he would have the centre's "full cooperation in the fight against corruption."
Nitish Kumar ended his coalition with Lalu Yadav last year and resurrected his ties with the BJP, the party he shunned after it decided to project Mr Modi as its prime minister.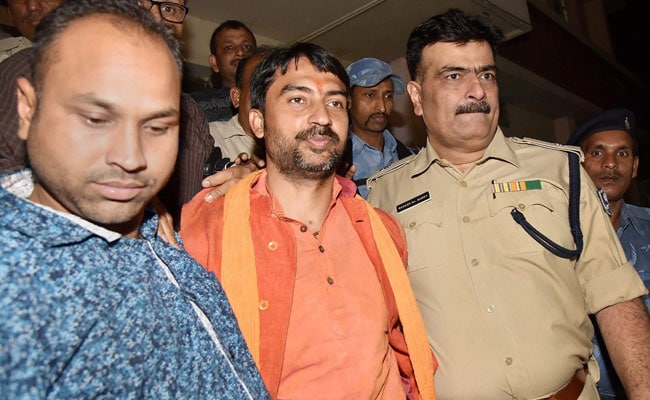 But in recent weeks, the chief minister has been
deeply upset over communal violence
that started out from Bhagalpur last month and then rapidly spread to at least five other districts. Sources say he is worried about more such polarising incidents ahead of the 2019 national election.
The incidents have left him facing condemnation and ridicule from opposition parties who have not forgiven the Bihar veteran for re-embracing the BJP.
Nitish Kumar confronted worse criticism after Arijit Shashwat, a BJP leader accused of inciting violence during Ram Navami processions last month, refused to surrender. The BJP leader, the son of union minister Ashwini Choubey, was finally arrested after the court, hearing the state's strong opposition, rejected his request for protection from arrest. Arijit Shashwat was granted bail by a court on Monday.
The BJP's trouble with allies in states like Uttar Pradesh, Andhra Pradesh and Maharashtra doesn't endanger its rule but hits it hard at a time perception matters. Andhra Pradesh Chief Minister N Chandrababu Naidu recently quit the BJP-led coalition in a row over special status to his state. In the other two states, allies have threatened to end all ties.