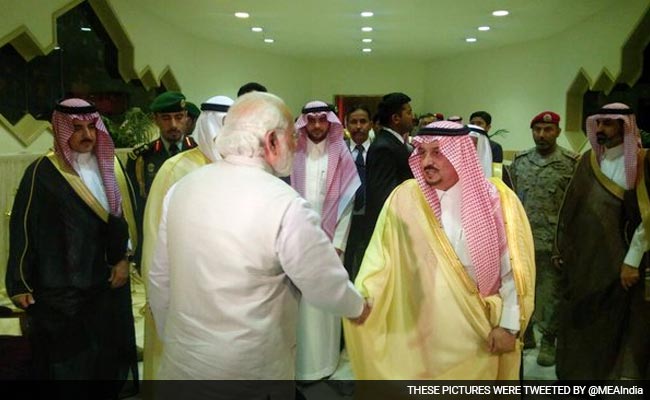 Riyadh:
Prime Minister Narendra Modi today left for home after wrapping up his final-leg of five-day three-nation tour of Belgium, the US and Saudi Arabia.
The Prime Minister had arrived in Riyadh yesterday from Washington and today he held wide-ranging talks with Saudi King Salman bin Abdulaziz Al Saud during which they agreed to strengthen cooperation in combating terrorism.
"Thank you Saudi Arabia. Joined several programmes during my visit, which will deepen economic & people-to-people ties between our nations," PM Modi tweeted both in Arabic and English before departing for New Delhi.
After the talks, both the countries signed five pacts including one on having cooperation in the exchange of intelligence related to money laundering, terror financing and related crimes.
Both the sides also called on all states to reject its use against other countries and dismantle terror infrastructures where they exist after talks between Prime Minister Modi and King Salman.
Energy-powerhouse Saudi Arabia is India's largest crude oil supplier, accounting for about one-fifth of total imports and both sides also decided to expand cooperation in the sector.
The Prime Minister's first stop was Brussels where he attended the long-delayed India-EU summit and held talks with Belgium counterpart Charles Michel on March 30.
From Brussels PM Modi went to Washington where he attended the Nuclear Security Summit on March 31 and April 1.