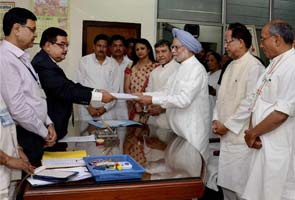 Guwahati:
Prime Minister Manmohan Singh today filed his nomination papers in the Assam Assembly to be re-elected as a Rajya Sabha member from the state. Dr Singh was accompanied by Congress general secretary Digvijaya Singh and Chief Minister Tarun Gogoi.
Though Congress workers welcomed Dr Singh with a Bihu dance, there were protests by the members of the all powerful All Assam Students' Union (AASU) who accused the Prime Minister of not looking after the interests of the state.
As the protests grew, Dr Singh came out to make a statement. "Assam has done me a great honour by sending me to the Rajya Sabha. I am also deeply indebted to the people of Assam and will do all I can to accelerate the economy of the state to remove poverty in the next 10 years," the Prime Minister said.
Dr Singh has been representing the state since 1991, ever since he joined politics.
There are two vacancies for the Rajya Sabha from Assam. Dr Manmohan Singh's term comes to an end on June 14. The second Rajya Sabha seat from the state is also falling vacant due to the end of term of Asom Gana Parishad (AGP) MP Kumar Deepak Das. Hemo Prabha Saikia, a senior Congress leader and the widow of former chief minister Hiteshwar Saikia is a front runner for that seat. Interestingly, her home in Guwahati is 'rented' to Dr Singh who needs an address in the state to contest from there.
Dr Singh is expected to win his seat hands down. With the Congress and allies occupying 94 seats in the 126-member Assam Assembly, the AGP and other Opposition parties have little chance of contesting against Congress nominees.
Mrs Saikia is a member of Congress Working Committee, so one will have to wait to see if she continues to be part of the that and makes way for another candidate or contests the polls along with the Prime Minister.
Though the Congress has so far not declared its candidate for the second seat, sources have told NDTV that it is likely to be from the tea community.
The last date for filing file nominations is May 20 and elections (if needed) will be on May 30.