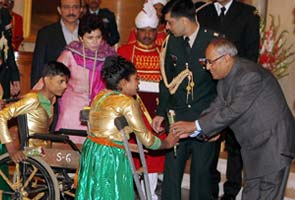 New Delhi:
President Pranab Mukherjee on Tuesday celebrated his 77th birthday with a group of differently-abled children who were specially invited for the occasion.
Vice President Hamid Ansari, Prime Minister Manmohan Singh and Lok Sabha Speaker Meira Kumar were among other dignitaries who went to Rashtrapati Bhavan to greet Mukherjee on his first birthday after assuming Presidency on July 25.
"A group of differently-abled children joined him at the Rashtrapati Bhavan for celebrating his birthday. The celebrations included songs, dances, Braille reading and singing of the National Anthem in sign language by the children," President's Press Secretary Venu Rajamony said.
The day began with nearly 80 students giving a dance performance to the tunes of Vande Mataram sung by A R Rehman after which blind students rendered the National Anthem in sign language.
The President, who was accompanied by his wife Suvra Mukherjee, cut two cakes inscribed with 'Happy Birthday to you'. The cakes were distributed among the children.
And finally, it was time for return gifts as the children lined up for the same with the President handing over a box to each one of them.
Among the little guests was a girl who had both arms amputated few months after her birth which drew the attention of the President who gave a lot of blessings to her besides handing over a return gift to her attendant.
Children also handed over greeting cards designed by them to the President and one of them gave a sapling, which was promptly planted by him in the lawns of Rashtrapati Bhavan.