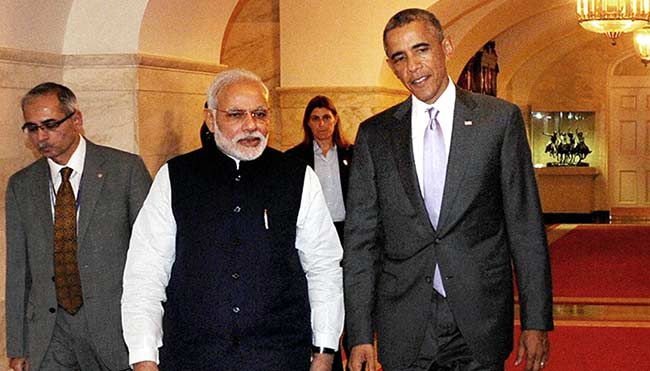 New Delhi:
US president Barack Obama has accepted Prime Minister Narendra Modi's invitation to be the chief guest at India's Republic Day celebrations in January.
Mr Modi had tweeted this evening:
This Republic Day, we hope to have a friend over...invited President Obama to be the 1st US President to grace the occasion as Chief Guest.

- Narendra Modi (@narendramodi) November 21, 2014
President Obama's National Security Council confirmed soon after, also on Twitter:
@ invite of @narendramodi President Obama will travel to #India in Jan 2015 to participate in Indian Republic Day celebration as Chief Guest

- @NSCPress (@NSCPress) November 21, 2014
The White House said it will be the first visit by a US president as a Republic Day chief guest. It said President Obama would meet Pm Modi and Indian officials "to strengthen and expand the US-India strategic partnership." (
Full Text of White House Statement
)
In Delhi, the Ministry of External Affairs spokesperson Syed Akbaruddin also confirmed of having received confirmation of President Obama accepting PM Modi's invite
Mr Modi met with President Obama in September at the White House for talks on two consecutive days.
The PM traveled to Washington after addressing the United Nations in New York and starring in what was dubbed as "a rock star reception" at the Madison Square Garden venue in New York.
While the meetings at the White House did not yield big-ticket announcements, the leaders pledged to work closely together on security issues and to boost economic ties.
Mr Modi's warm reception came after he was denied a visa by the US in 2005 on account of alleged human rights violations in the 2002 riots which took place during his first term as Chief Minister of Gujarat.
Earlier this month, Mr Modi met with President Obama at an East Asia summit in Myanmar and a deal was struck there to allow a WTO trade deal that India had stalled over concerns that its food subsidies to the poor could face legal challenges. The President had praised Mr Modi as "a man of action".