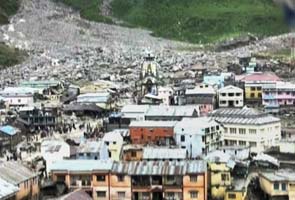 Dehradun:
Preparations are in place for resumption of prayers from September 11 at Kedarnath shrine in the flood-ravaged state of Uttarakhand, Chief Minister Vijay Bahuguna said today.
Prayers at Kedarnath, currently suspended since the deluge in June, will begin again at 7 am and continue till 11 am, Mr Bahuguna told reporters after a meeting with Badrinath-Kedarnath temple committee officials to review the arrangements.
Giving details of the meeting, Mr Bahuguna said that the committee -- the Kedarnath dharmadhikari and representatives of Shankaracharya Swami Swaroopanand Saraswati -- had given their consent for the prayers to recommence at the shrine on September 11, as announced earlier by the state government.
He, however, added that devotees will not be allowed to visit the shrine by foot till September 30 for safety reasons.
The temple committee has provided the state government with a list of 24 persons who will perform the prayers at the shrine on September 11, Mr Bahuguna said.
The above team would be replaced every 10 days by a new one which would continue performing the prayers there, he said.
The state government will hold another meeting with the temple committee and others concerned to review the conditions at the shrine on September 30, he said.
Prayers were suspended at the shrine after the June 16-17 deluge which caused large-scale damage to Kedarnath valley.
Although the shrine itself remained unharmed in the calamity, the adjoining area and structures bore the brunt of it.