New Delhi:
Prime Minister Narendra Modi has lavished praise on President Pranab Mukherjee, saying he never judged his government's decisions or compared them with those made by previous governments.
"I was surprised while working with Pranab Da for three years that despite having been a part of the government for so long, and that too in key decision-making positions, he never judged or compared my government's decisions by his past experiences," Prime Minister Modi said.
PM Modi released a book titled "Selected Speeches of President - Volume 4" at a function at the Rashtrapati Bhavan in New Delhi and presented the first copy to Pranab Mukherjee. "He always saw the decisions in the present context with the present realities," PM Modi said.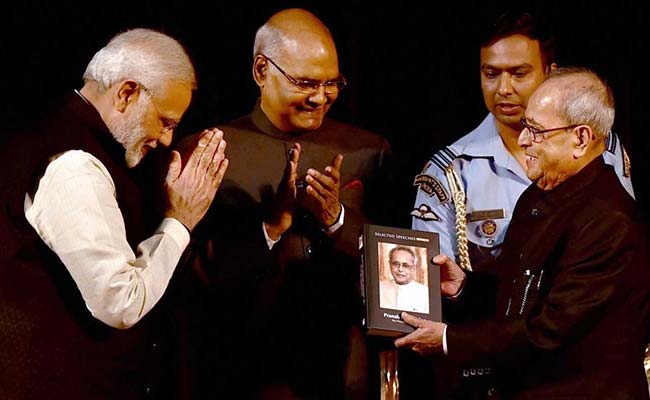 Prime Minister Modi said although he and the President came from entirely different political backgrounds and were nurtured by different ideologies, "Pranab Da never let me feel that".
He said it was due to the guidance of "guardian and fatherly figure" of President Mukherjee that he could learn the nitty-gritty of governance at the Centre. "I was new, had no experience at this level (Centre). I came from a state. But through his (Pranab Mukherjee's) guidance we could do many things that we have done," the Prime Minister said.
The prime minister also said that his every interaction with President Mukherjee will serve as a guiding light in his life.
Speaking on the occasion, President Mukherjee said: "I have received much more from the country, than what I have given." He also said that he was overwhelmed by a deep sense of gratitude to the people of India for the trust and confidence they reposed in him and humbled by their kindness and affection.
President Mukherjee said that in the last five years he learnt from his travels across the length and breadth of the country. "I learnt from conversations with young and bright minds in colleges and universities, scientists, innovators, scholars, jurists, authors, artists and leaders from across the spectrum. These interactions kept him focused and inspired," he said.
President Mukherjee congratulated and extended a warm welcome to his successor Ram Nath Kovind and wished him success.
Get the latest election news, live updates and election schedule for Lok Sabha Elections 2019 on ndtv.com/elections. Like us on Facebook or follow us on Twitter and Instagram for updates from each of the 543 parliamentary seats for the 2019 Indian general elections.