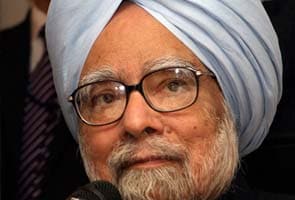 New Delhi:
Prime Minister Manmohan Singh has a busy schedule ahead over the next few days as he holds summit meetings with leaders of Russia and China. During the 5-day trip to the two nations that begins today, he is determined to take the relations with old friend Russia and strategic competitor China to a new level.
Dr Singh will arrive in Moscow later this evening where he is scheduled to have summit level talks with Russian President Vladimir Putin on Monday. High on the agenda of the 14th Indo-Russia annual summit is the finalisation of the contract for Unit III and IV of the Kudankulam Nuclear Power Project.
Hectic negotiations are on between the two sides on clinching a deal on the two new reactors in Kudankulam against the backdrop of the Russian concerns over the civil liability issues arising out of the nuclear liability law in India.
Russia continues to remain a trusted partner in defence for India and talks are likely to be held on several on-going issues and projects including the fifth generation fighter aircraft that is being co-developed and is to be co-produced by Russia and India.
Russia is opposed to liability provisions in selling the Nuclear reactors claiming it has an inter-governmental agreement on Kudankulam, which precedes the law.
Since Negotiations on this issue are still on, the deal may not be sealed during visit to Russia, some observers feel.
"Indian and Russian companies have been holding negotiations on finalising arrangements for Kudankulam units 3 and 4, and I am confident that these contracts would be finalised shortly," Dr Singh told Russian journalists ahead of the summit.
India and Russia have also recently agreed to set up a joint study group to look into the construction of an oil pipeline from Russia to India via Afghanistan and Pakistan.
In the defence sector Dr. Singh said the two sides are working on development of the fifth generation fighter aircraft and the multi-role transport aircraft as "two flagship projects" between India and Russia.
From Moscow, the Prime Minister flies to Beijing on October 22 for a meeting with his counterpart Li Keqiang on October 23, his second in six months.
Dr. Singh will also be meeting President Xi Jingping.
The focus of the visit to China will be the proposed Border Defence Cooperation Agreement (BDCA) to avoid face offs between the two armies along the disputed Line of Actual Control.
Get Breaking news, live coverage, and Latest News from India and around the world on NDTV.com. Catch all the Live TV action on NDTV 24x7 and NDTV India. Like us on Facebook or follow us on Twitter and Instagram for latest news and live news updates.