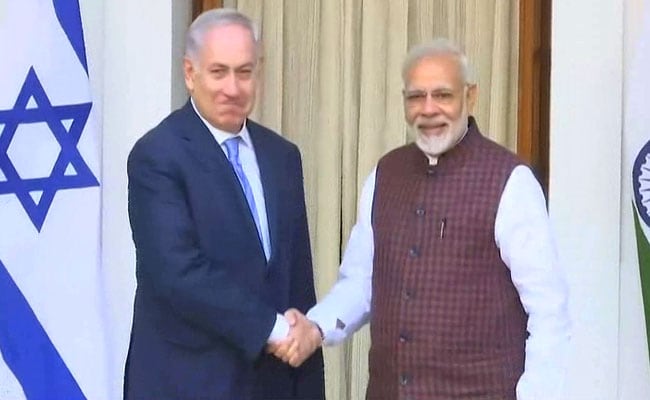 New Delhi:
Visiting Israeli Prime Minister Benjamin Netanyahu will present his Indian counterpart Narendra Modi a special gift - the Gal-Mobile water desalinisation and purification jeep the two leaders rode on Israel's Olga beach last year. The jeep has reached India, sources here confirmed.
"It has reached Delhi and is on its way to Bhuj," sources said. "There will be a live demonstration of desalination of seawater that the two prime ministers will witness through video conferencing from the iCreate centre on Janaury 17," they said. PM Netanyahu and PM Modi waded into the Mediterranean Sea and rode the "buggy" jeep on the coast during the latter's visit to Israel in July last year.
The jeep is said to cost around 390,000 shekels (approximately USD 111,000). Gal-Mobile is an independent, integrated water purification vehicle, designed to produce high-quality drinking water. It can be useful in natural disasters like floods, earthquakes, military use in difficult terrain and rural areas to provide drinkable water. It can purify up to 20,000 litres per day of seawater and 80,000 litres per day of brackish/muddy or contaminated river water and bring it to WHO standards. Modi and Netanyahu had witnessed the demonstration of seawater purification technology pioneered by Israel at a water desalination unit on the Olga Beach during the Indian Prime Minister's visit to Israel.
"When you and I walked shoeless along the Mediterranean shore, we drank seawater that was purified before our eyes using technology that will save untold lives. India and Israel are working together to provide clean water, to increase crop yields, to keep our people safe from terrorism and other challenges to the future we both seek," PM Netanyahu said yesterday in New Delhi.
PM Modi at the India-Israel Business Summit yesterday said Israel's technology for land, water or space has won appreciation. "In fact, hailing from a water-deficient state in India, I have particularly admired Israel's water efficiency," he had said.