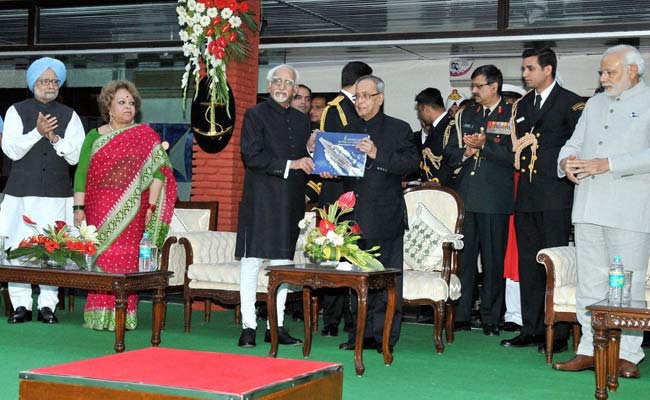 New Delhi:
On the Navy Day, President Pranab Mukherjee and Prime Minister Narendra Modi today showered praise on the maritime force and saluted its personnel for their "impregnable spirit" and "utmost devotion".
The two leaders along with Vice President Hamid Ansari, Lok Sabha Speaker Sumitra Mahajan, Defence Minister Manohar Parrikar and Finance Minister Arun Jaitley also attended a reception hosted by Navy Chief Admiral RK Dhowan.
Mr Mukherjee, who is also the Supreme Commander of the defence forces, said the Navy has countered effectively growing challenges and maintained constant vigil at sea.
"The current geo-strategic environment has enhanced the role and responsibilities of the Indian Navy in protecting the nation's maritime interests," he said in his message.
"I am sure the Indian Navy will continue to ensure security of maritime trade and international sea lanes vital for the nation's development; protect our vast coastline and contribute to regional peace and stability," he added.
Mr Mukherjee complimented the Navy for successful induction of indigenously constructed warships and submarines and its integration of Indian-made equipment and systems, saying it "symbolise India's growing maritime capabilities and quest for strategic self-reliance."
In his message, Mr Modi said, "On #NavyDay, I salute our Navy personnel and the impregnable spirit & utmost devotion with which they protect our Motherland."
In another tweet, he said, "The steadfast dedication & valour of our Navy Personnel is an unparalleled asset for our Nation."
Earlier in the day the Navy chief, along with Air Chief Marshal Arup Raha and Army Chief Gen Dalbir Singh Suhag paid tributes to martyrs at the Amar Jawan Jyoti here.
The Indian Navy observes December 4 every year as Navy Day to commemorate the glorious victory of the Indian Navy in the Indo-Pak War of 1971 and to salute the valiant heroes who brought the country this moment of pride.
At the reception hosted by Navy chief, a photo essay book on Navy was also released by Vice President, the first copy of which was presented to the President.
Mr Modi later briefly interacted with Navy personnel. Some of the ladies present clicked selfies with Mr Modi along with some officers.