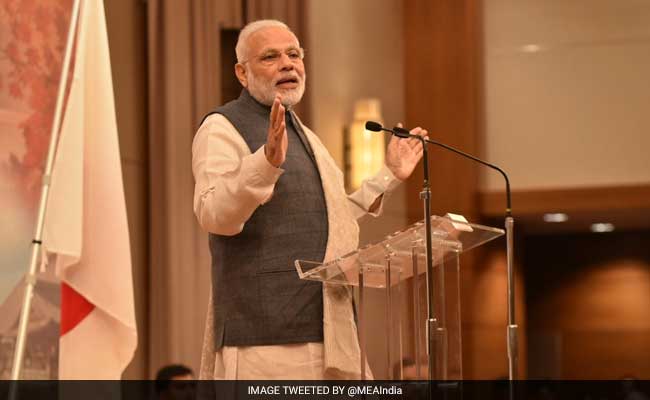 Edison, New Jersey:
Prime Minister Narendra Modi and President-elect Donald Trump will be "unparalleled" friends and under their leadership Indo-US trade could reach a whopping trillion dollars a year in less than a decade, said a prominent Indian-American industrialist and Trump supporter.
"I have no doubt that Trump Sarkaar (government) and Modi Sarkaar will be the best friends and the two leaders will be unparalleled friends in the history of world leadership," Republican Hindu Coalition founder Shalabh Kumar said at an event to felicitate him following Mr Trump's election victory.
Mr Kumar expressed confidence that Mr Trump will be president for two terms and the Modi government too will get a second term, giving both leaders at least eight years to work together at the world stage.
Citing strong growth in bilateral economic cooperation, Kumar said he is confident that "under Trump Sarkaar and Modi Sarkaar, India and US trade will reach one trillion dollars per year in the next eight years."
Mr Kumar had last month organised a rally in New Jersey attended by Trump, who had said at the event that he is a "big fan of Hindus" and of India. He described Trump's stunning election win as a "second Diwali."
"There is a lot of commonality between India and the US. Trump will be the best President for India, he will be best friend with India," Mr Kumar said at the event attended by several members of the Indian-American community.
Mr Kumar stressed that areas such as electronic products will propel trade between the two nations to a trillion dollars in the next eight years. He said under a Trump administration, "lot of legislation that poses artificial barriers" to trade will be removed and India and the US will see greater collaboration in areas such as defence, energy and manufacturing as well as combating terrorism.
He also expressed confidence that the Trump administration will enact strong immigration laws which will benefit the hundreds of thousands of Indians legally waiting for their US Green Cards and legal residency permits.
Terming radical Islam as the "camel in the room," Mr Kumar later told Press Trust of India that Trump is not afraid to use the words to describe the problem of terrorism confronting the world.
"There is a camel in the room. A lot of people ignore the camel in the room, Trump is not afraid to call it what it is - radical Islam, extremist Islam. Radical Islam has declared a war on the free world. You have to first recognise the enemy, if you do not recognise that camel, that war and pretend that there is no war how can you fight the war," he said.
He stressed that the Trump-Modi relationship "will not be just optics". Optics is "when President Barack Obama celebrates Diwali in the White House but then goes and gives F-16s to Pakistan," he said.
When asked how soon will the two leaders meet, Mr Kumar said a meeting between Modi and Trump will happen "in a timely" order.
"There are a lot of pressing domestic problems that Trump faces and which he will have to address immediately such as repealing and replacing the Obamacare Act, the Iranian nuclear deal and thousands of other legislation brought in by Obama," Mr Kumar said.